Enterprises that want to develop sustainably, cannot only run after profits, but need higher goals. For businessman Pham Thi Huan, 67 years old, Labor Hero, Chairman of the Board of Directors, General Director of Ba Huan Joint Stock Company, it is the belief from the community, from the employees themselves.
The bravery of the Heroine of Labor
Pham Thi Huan is one of the outstanding typical entrepreneurs in the 5-year patriotic emulation movement (2016 – 2020) and was awarded the title of Labor Hero at the 5th National Patriotic Emulation Congress. X takes place on December 9-10, 2020.
As a businesswoman who has never entered the university lecture hall, not even finished 5th grade, Ms. Pham Thi Huan has achieved remarkable achievements. She followed her mother to sell poultry eggs from the age of 13, has been with the poultry egg industry for more than half a century, she always believes that a full love will help businesses overcome all difficulties.
Her feelings when receiving the title of Labor Hero, especially during the current crisis because of the Covid-19 pandemic, were shared by her: "This title is a great honor not only for me personally, but also for me. also for the entire staff and employees at Ba Huan Company". This is also a great encouragement and morale for her and her colleagues to continue to believe in development opportunities after going through the pandemic.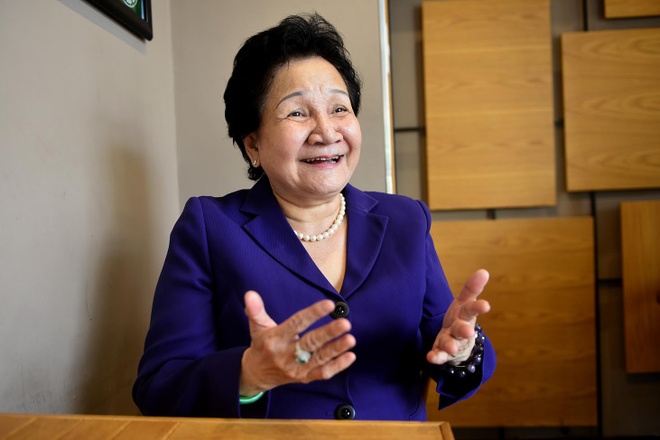 Talking about the heirloom business and the reason for sticking with poultry eggs for a lifetime, Ms. Huan shared: "Perhaps, sticking to the profession is the reason for me to be called "the queen of ducks" by many people. Ba Huan brand is more and more known.
She added that in 1982, she established the first poultry egg barn in Ho Chi Minh City, named Ba Huan, and then gradually developed professionally, until 2001, Ba Huan Company was born. Looking back now, it turns out that difficult times and crises are opportunities to rise up.
In 2003, when the bird flu epidemic occurred, she was on the verge of bankruptcy, forcing Ms. Huan to change by deciding to invest in machinery to process clean poultry eggs, to accompany farmers and the elderly to produce products. poultry egg production. It is also considered a "makeover" for the traditional poultry egg industry, a very right decision, a solid basis to get Ba Huan today.
Her company imported the world's leading 100% automatic egg handling equipment from Moba – the Netherlands. Process of egg processing through stages: washing eggs, drying, irradiating with UV light to kill bacteria, looking for damaged eggs, putting on a protective layer of oil to help prevent the penetration of bacteria from the outside into the eggs. Time to print labels and symbols to trace the origin of each egg (when needed), weigh and box the finished product.
All stages are fully automated 100%. With this process, eggs are treated and disinfected according to international standards on food hygiene and safety.
In addition, the factory also built a system of cool storage, cold storage to help transship processed products such as sausages, sausages… from Ho Chi Minh City to the North. The company also offers salted eggs, northern herbal eggs produced according to heirloom recipes to serve consumers in the North. The factory went into operation to purchase a large amount of poultry eggs in Hanoi and neighboring localities for processing. This contributes to expanding output for livestock households and promoting the clean production program in Hanoi.
Associate production with consumption and the heart of elderly entrepreneurs
Currently, Ba Huan Company has completed the food safety and hygiene chain from farm to table, including: 18 ha high-tech egg raising farm with a total flock of 1 million chickens; Animal feed processing factory with a capacity of 20 tons/hour in Tan Uyen – Binh Duong;
Poultry egg processing plant with a scale of 2 hectares, capacity of 185,000 eggs/hour in Binh Chanh, Ho Chi Minh City; Food processing factory with scale of 5 hectares, total capacity of 50 tons/day in Duc Hoa district, Long An province. High-tech chicken raising farm with a scale of 30 hectares with a total of 3 million chickens in Long An province.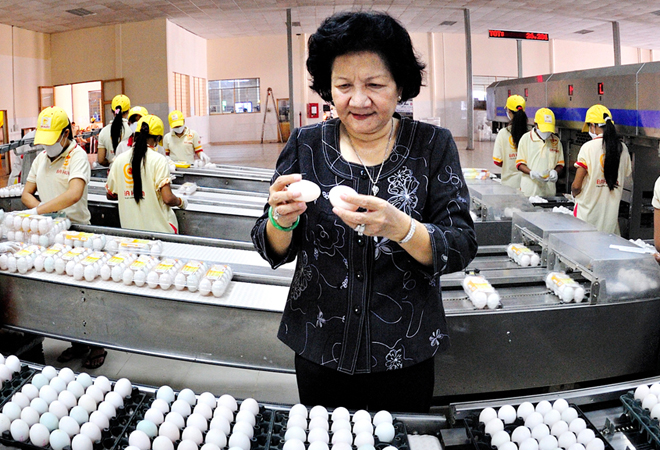 Huge investment in egg processing equipment, but Ba Huan Company always implements social responsibility, the egg price is always equal to or lower than the market price. On this occasion, the Company also signed a contract to consume products with farmers and supply products to businesses that use egg materials in food production and egg distribution businesses at commercial systems, schools and markets. learn…
In order to have a closed cycle from farm to fork, enterprises must act as the locomotive in association with farmers and elderly people for production and invest in processing and consumption, taking the quality and reputation criteria on top. Top. When trusted by internal employees as well as by consumers, businesses will have the opportunity to grow. Consumers know Ba Huan more and because of the hearts of farmers who are one with the same sun and two dew, she cannot change to another business.
Ba Huan Company also shows the word "love" to employees and the community through specific actions. The members of the Company are always aware that: "As long as it is trusted by consumers and the team, Ba Huan still has a chance to develop".
For employees, over the past decades and during this pandemic, the Company does not let anyone quit. Ms. Huan considers employees as children and grandchildren in the family, sometimes even standing up to set up a wife and give them a husband. When their families have filial piety or have difficulties, they all work together internally to help. Therefore, in the face of the negative impact of the Covid-19 epidemic, 800 employees of the Company still maintain a belief that they will overcome the crisis together.
With the community, most recently, Ba Huan Company sells food at a discount of 20 – 30% of poultry eggs, produces processed products to accompany and support people and elderly people in the Central region to overcome floods and people, the elderly in many localities during the Covid-19 pandemic…
The motto of linking production with consumption, taking prestige as the first, always ready to share difficulties with the community is also the connecting thread of Ba Huan Company. Hero of Labor, elderly businessman Pham Thi Huan shared: "When we put our trust in each other and make efforts together, we can certainly overcome this pandemic as well as future challenges."