The "Farmer" commandress who built a new era for the poultry egg industry in Vietnam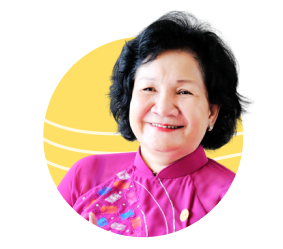 The origin of the
"Ba Huan Brand"
Every story has a beginning. For Ba Huan Brand, businesswoman Pham Thi Huan begins her story from a small egg stall left by her parents. At that time, she was only 16 years old.
Because of her difficult circumstances, she did not have an excellent education – as she often describes herself – yet, her acute approach to the market is undeniable. That is the critical factor that has helped entrepreneur Pham Thi Huan overcome all difficulties and go through ups and downs to establish the Ba Huan Joint FoodStock Company – which is Ba Huan we know today.
A turning point
marking a new era of Vietnam's poultry egg industry
After only 2 years of its establishment, in 2003, Pham Thi Huan's business was heavily impacted by the H5N1 bird flu pandemic, causing the business to suffer heavy losses. However, instead of quickly choosing a new business direction, she decided to bear the burden side by side with farmers. She shared that she was also a farmer, and therefore she understands very well the difficulties and bitterness that farmers have to endure whenever they fail.
After a period of research, she decided to sell off the factory and borrow further loans, determined to purchase the world's leading clean egg processing line from Moba Group in the Netherlands. From here, an egg processing line worth €650,000 with a capacity of 65,000 eggs/hour was put into operation. Due to insufficient capacity, three years later, Pham Thi Huan continued to invest 1 million euros in a new production line with twice the capacity.
Not only has this become a solution to help farmers from traumatic losses caused by the pandemic, but it also marks a pivotal point for Ba Huan as it becomes the pioneering brand to bring about new consumption trends, a game changer for the poultry egg industry in Vietnam.
Reaching out

to the world
To date, Ba Huan Joint Food Stock Company has finished creating a completely enclosed "from-farm-to-fork" food and hygiene  safe chain with 4 factories and 3 livestock farms, Approved by the Government as the "National Brand Products." Furthermore, the Company also owns 12 affiliated units and 6 distribution stores. Ba Huan products are shelved in 3000 large and small-scale supermarkets throughout the country. It provides over 1 million poultry eggs per day in Ho Chi Minh city and 80% of salt-cured eggs to confectionery brands such as Kinh Do, Bibica, Dong Khanh, etc.
Thanks to the continuous efforts and business philosophy towards sustainability, Ba Huan's products have become much more familiar to domestic consumers and many countries around the world. Not only are they exported to Hong Kong, Malaysia, Singapore, etc. Ba Huans' products also pass Japan's strict and stringent standards on breeding and egg preservation conditions. They have become a partner of the ISE Japan Corporation to supply their instant fresh chicken eggs line- which are eggs that can be immediately used without processing- to major Japanese restaurant chains. In addition to traditional egg products, Ba Huan also has a number of other outstanding products, such as Omega 3 chicken eggs, vitamin E chicken eggs, chicken, sausages, and chicken nuggets… which are highly popular.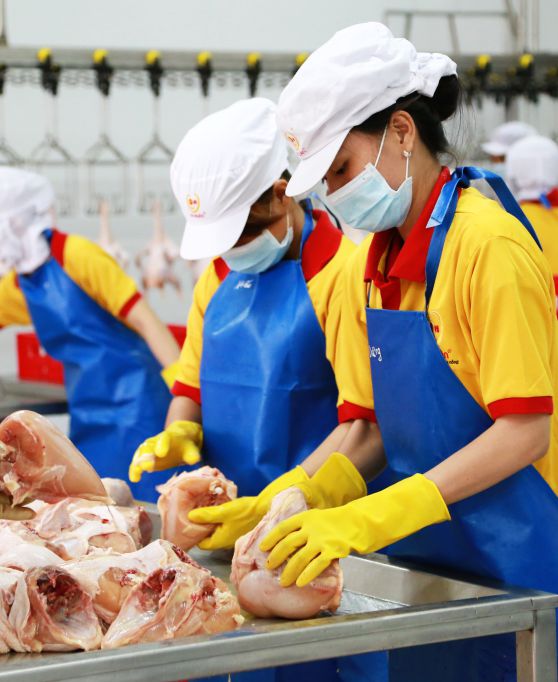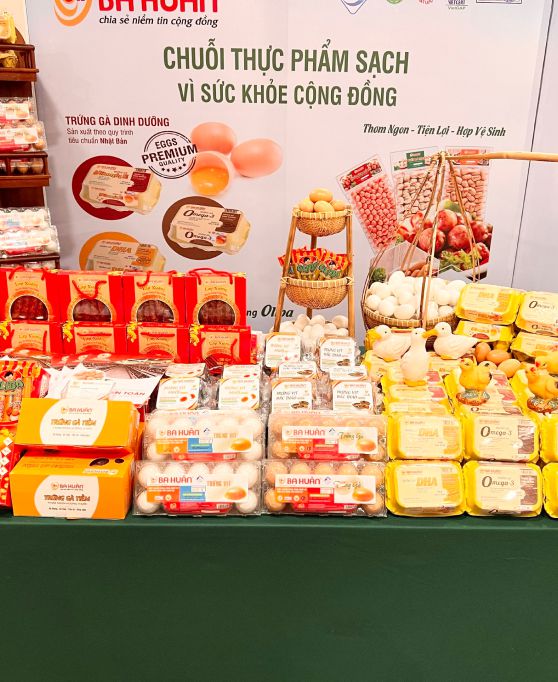 The transformation

of Ba Huan in the Digitization Era
On September 23, 2022, entrepreneur Pham Thi Huan made a bold decision. The Ba Huan Corporation signed a comprehensive digital transformation cooperation agreement with FPT. This cooperation is considered a doorway for Ba Huan to transform from a traditional agricultural unit to the first comprehensive digital agricultural enterprise in Vietnam.
According to the cooperation agreement, FPT will advise Ba Huan in choosing suitable digital solutions in all areas of the operation, from poultry breeding and manufacturing to constructing and digitizing products, automatic output administration, resource management, and building a database system… The digital system helps Ba Huan manage the breeding stages from the hatchery, feed factory, and cultivation farm, harvest and bring eggs to the processed food factory and manage product distribution.
Ba Huan has been on the market for over 40 years. Over 40 years Ba Huan has stood side by side with Vietnamese farmers, helping millions of them improve the quality of their life, continuously striving to bring positive socio-economic values to the country, and creating considerable development towards Vietnam's clean agriculture. It is also thanks to the business philosophy that has remained unchanged for more than 40 years, which is Prestige – Professionalism – Competence- Scale – Sustainability, that Ba Huan has been gradually realizing the dream of a  clean, sustainable poultry eggs industry and the dream of leaving their marks on the world.