Ba Huân's 24H Fresh Nutritious Eggs Counter at GO! supermarket aims not only to provide high-quality eggs to consumers but also to promote sustainable development and protect the environment by replacing plastic bags with bamboo baskets and kraft paper bags to minimize the generation of difficult-to-handle waste in the environment.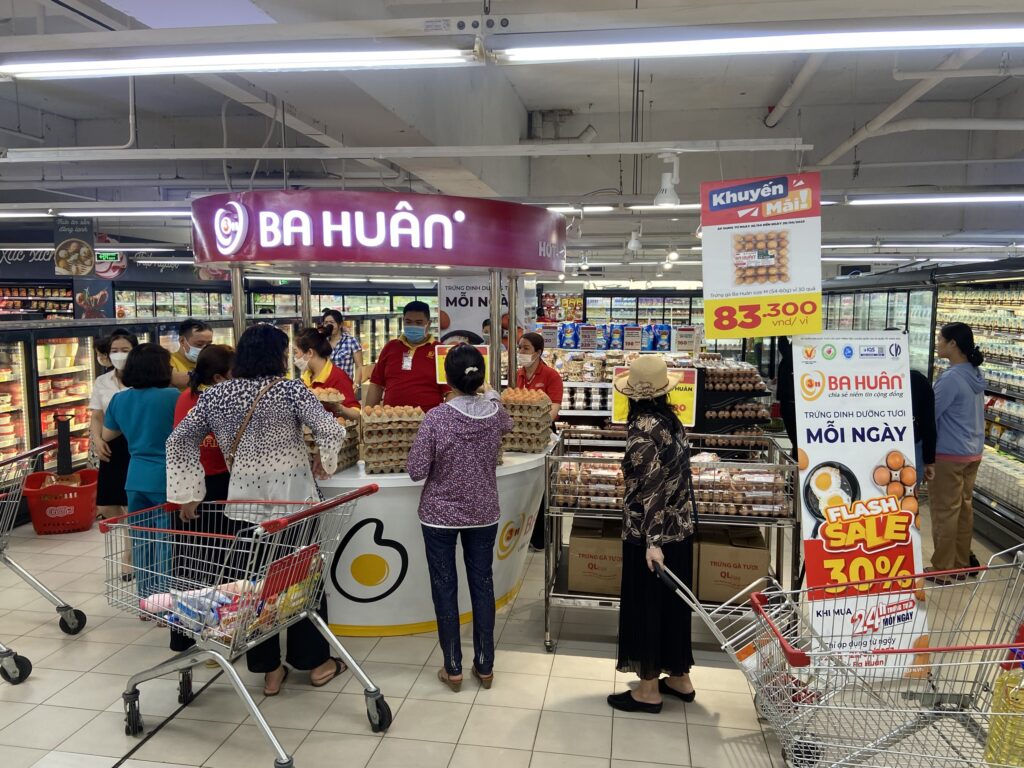 Sustainable development is a positive direction that any business, regardless of its scale, aims to pursue. When a business engages in commerce while still caring about and respecting environmental and social factors, it helps improve the brand's reputation, increase trust with partners, and contribute to the community. Through a sustainable development strategy, businesses have more opportunities to attract capital and talent to expand their operations, contribute to the green economy, and strengthen the overall economic well-being.
Pursuing sustainable development goals involves specific strategies and plans for resource utilization and conservation in the long term. Sustainable business practices help save costs on inputs such as electricity and water, address systemic issues, and enhance the quality of the work environment and employee productivity.
To cope with and minimize the environmental impacts of the economy, many countries and regions have been enacting and renewing laws and policies related to environmental protection in business. Embracing a sustainable business model early on helps businesses proactively shape their development strategies, adapt flexibly to continuous legal changes, and actively integrate and thrive in the international market.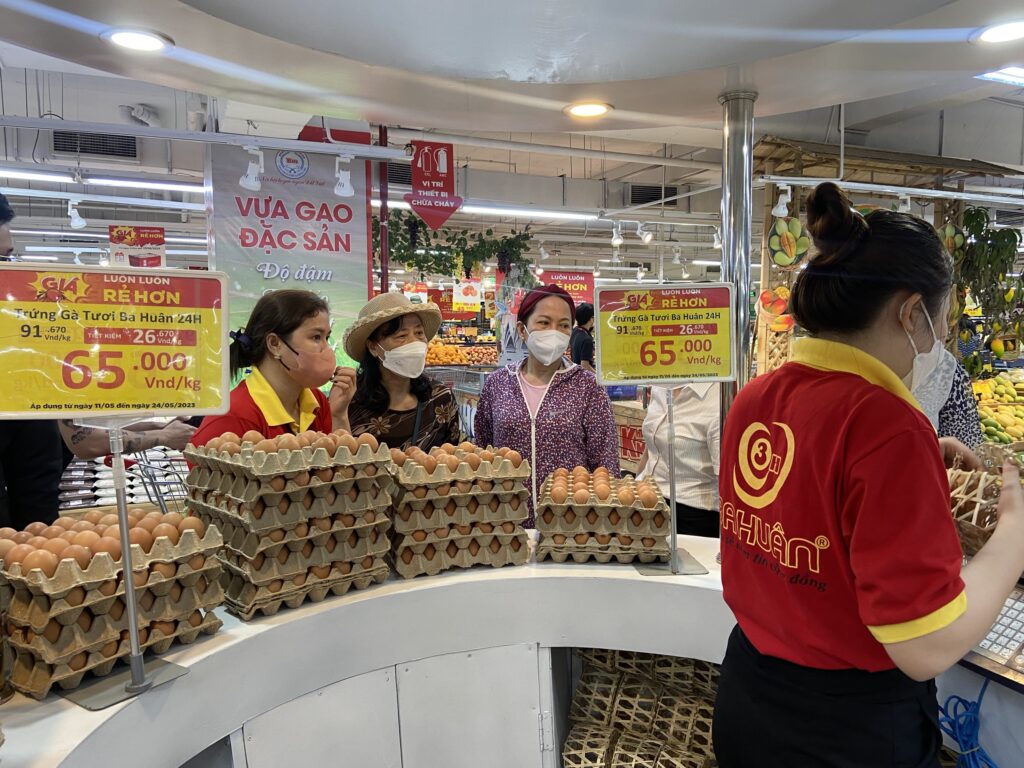 With the motto "Sharing Trust with the Community" Ba Huân is well aware of the brand's influence on society, consumers, and farmers. Through diverse and widespread activities, Ba Huân provides support for the equal development of individuals, contributes to improving the local community's livelihoods, and realizes the sustainable development goals of the nation.
For a long time, Ba Huân has recognized the feasible opportunities that come from implementing a closed-loop production model. When the 3F business model – Feed Farm Food – From farm to table – is fully applied to the livestock production and business processes, Ba Huân's poultry industry seems to enter a new, more modern chapter. Besides improving the control of product quality, these new processes also focus on minimizing and recycling plastics, packaging, and other waste materials into the environment.
Through years of business operations, intertwining the benefits of the company with the interests of consumers and the broader society, along with implementing appropriate agricultural processing models, Ba Huân has introduced various new business models and policies. These models can meet the increasing demand for high-value products while contributing to society by participating in green programs, conserving resources, and alleviating the burden on the community in dealing with the urgent issue of plastic waste management.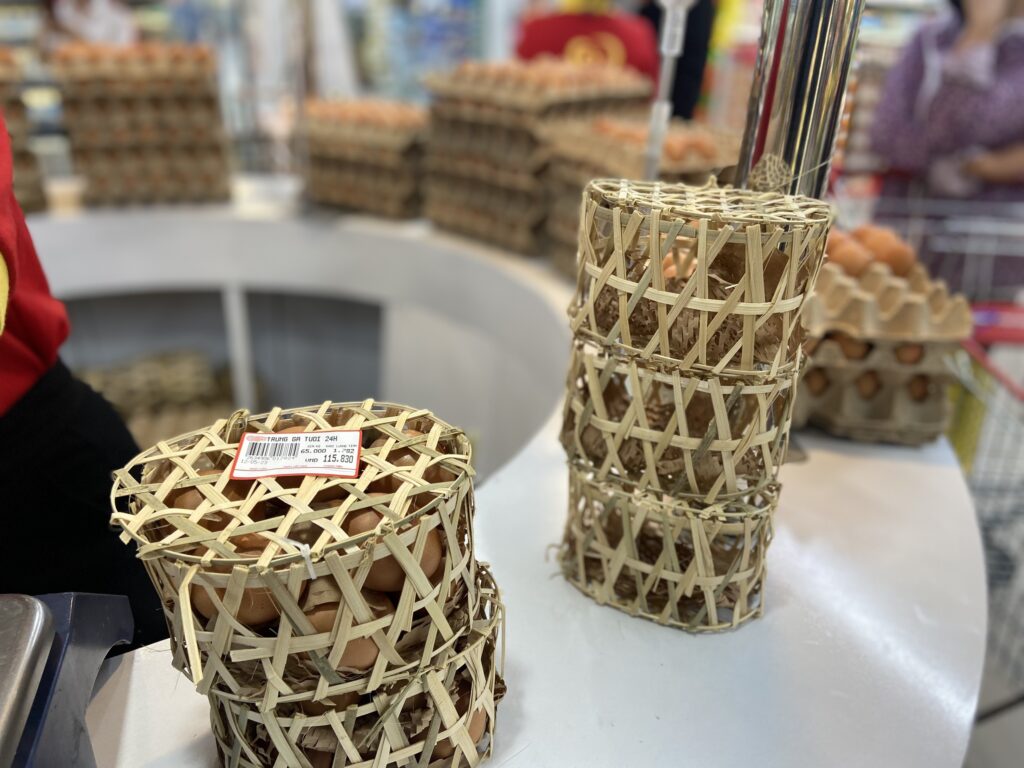 Ba Huân's fresh egg counter at GO supermarket was created with the same purpose. Here, when customers purchase nutritious fresh eggs, they are completely packaged in hand-woven bamboo baskets or in trays and paper bags made of kraft material. Whether it's bamboo baskets or kraft paper, these are simple, lightweight, and charming materials that contribute significantly to environmental protection. Even if these bags are discarded into the environment, they can be easily processed and completely biodegraded without causing harm to the ecosystem.
Not only used for packaging Ba Huân's products, these bamboo baskets are designed to be simple, compact, and attractive, allowing customers to reuse them for various storage purposes or use them as decorative items in their homes. Similarly, the kraft paper trays can be utilized for planting soil, providing an optimal solution for reusing these items.
Ba Huân is constantly striving to change and develop, gradually transforming from a traditional agricultural unit into a comprehensive digital agriculture enterprise, the first of its kind in Vietnam. In addition to technological innovations, Ba Huân has successfully built the 3H ecosystem (Health – Hygiene – Heart) based on the core values and cultural foundations that the company has maintained over the years to serve the community with high-quality products, ensuring food safety and hygiene, and building a community health platform.