Ba Huân opens a 24-hour fresh and nutritious egg counter at GO! Nguyen Thi Thap, District 7, Ho Chi Minh City, aiming to provide consumers with fresh, high-quality eggs that are rich in nutrients, meeting the demand for raw consumption without complicated processing.
BENEFITS OF EATING RAW EGGS
Eating raw eggs seems to have become familiar in recent times, as many countries and regions with rich culinary cultures have gained attention and interest from around the world. Notable examples include Japan and South Korea, which are known for their distinctive culinary traditions and the incorporation of both simple and sophisticated dishes.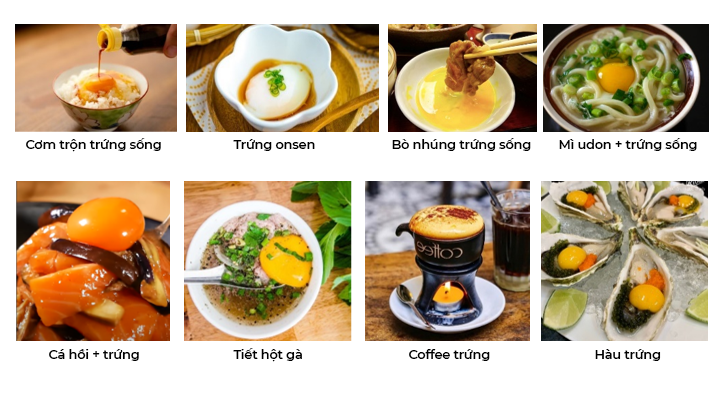 It can be clearly seen that consuming raw eggs not only provides convenience and quickness in culinary enjoyment, creating unique and delicious dishes, but also brings certain health benefits when consumed directly or combined with other familiar foods..
Nutritional supply: Eggs are a rich source of essential nutrients for the body, including protein, fats, vitamins, and minerals. When consuming raw eggs, these nutrients are quickly absorbed without loss due to cooking processes.
Boosting immune system: Raw eggs also contain a large amount of enzymes and natural antimicrobial compounds, which help enhance the body's immune system and prevent infectious diseases.
Improving cardiovascular health: A study has shown that consuming raw eggs can improve cardiovascular health by increasing the level of "good" cholesterol in the body and reducing the level of "bad" cholesterol.
Enhancing muscle strength: Raw eggs are high in protein, which helps the body strengthen muscle power and recover after workouts.
24 HOURS FRESH NUTRITIOUS EGGS FROM BA HUÂN.
Recognizing the nutritional values that a fresh egg can bring to consumers' health, Ba Huân continuously strives to improve the production processes of high-nutrient egg varieties such as Omega-3 & DHA Eggs and Vitamin E Eggs. Moreover, eggs hold the highest value when used within 24 hours of being laid on the farm.
Ba Huân's nutritious eggs are produced following the closed-loop 3F principle: "Feed – Farm – Food Processing" or "from farm to table," which is being pursued by agricultural corporations to comprehensively control product quality. From the breeding of chicks, poultry feed, farm management, egg processing, commercial eggs, to the refrigerated transportation system delivering eggs to GO! distributors within 24 hours.
Ba Huân's nutritious fresh eggs have significantly higher levels of Omega-3, DHA, and Vitamin E compared to regular eggs, ranging from 3 to 5 times higher. All these nutrient levels have been verified by regulatory agencies and reputable organizations, including certification of high-quality Vietnamese goods, food safety chain certification, Halal certification for Islamic food standards, ISO 22000:2018 certification for food safety management systems, and VietGAP certification for animal husbandry.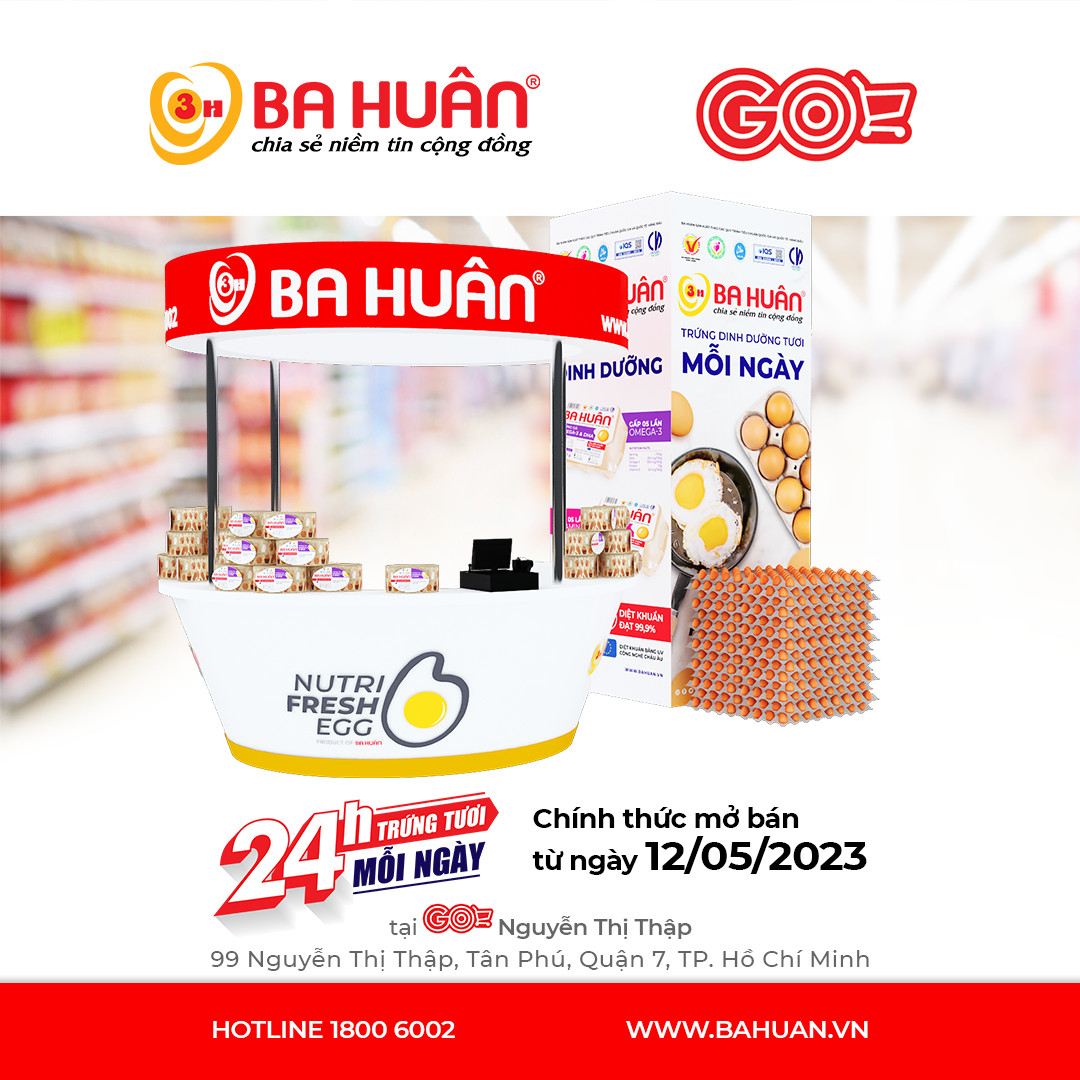 Ba Huân understands the needs of consumers and provides the necessary conditions for them to quickly purchase and use freshly laid eggs. Ba Huân has set up an egg counter at GO! Nguyen Thi Thap supermarket. Users can buy eggs in quantities according to their personal needs, without having to purchase a specific quantity usually found in larger supermarkets.
The option to purchase the desired quantity of nutritious eggs allows for better calculation and adjustment of the amount of eggs to be used within a day, ensuring the best timing (within 24 hours) to absorb the optimal nutritional values that an egg can provide. This is perfectly suitable for individuals who need to supplement their bodies with essential nutrients but have limited time for food preparation.
With over 50 activities in the poultry farming and production industry, Ba Huân holds a leading position as a provider of clean and high-value food solutions in Vietnam. They apply the most advanced agricultural standards and systems to deliver the best quality products, including nutritious fresh eggs, chicken meat, and processed products such as pasteurized sausages, smoked sausages, chicken pate, Thai-style chicken feet, and shredded chicken. These products cater to consumers not only in Vietnam but also worldwide.