Ba Huan fresh duck eggs contain many vitamins and minerals. In particular, one egg can meet nearly 100% of daily vitamin B12 needs. Vitamin B12 is an essential nutrient for red blood cell formation, DNA synthesis, and nerve function.
At Ba Huan, fresh duck eggs are produced with a closed process from the breeding farm to the final product, providing a safe and nutritious source of fresh duck eggs to serve the needs of domestic and foreign consumers. Ba Huan is proud of more than 50 years of sharing community beliefs.
User manual: Use for making everyday meals.

Storage: refrigerate or a dry and cool place.

Shelf life: 10 days in room temperature and 30 days in refrigerator.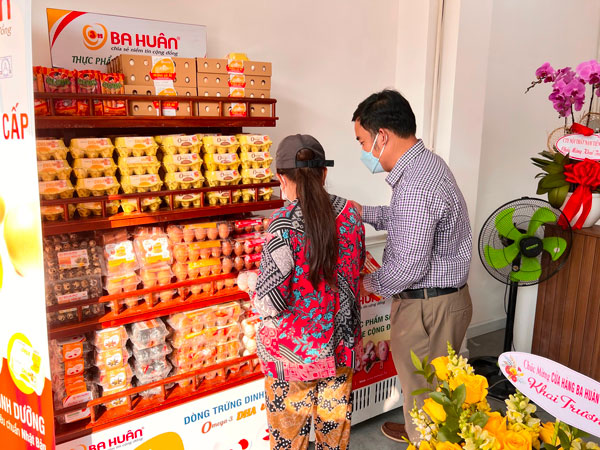 Southern store system
Ba Huan Binh Thanh Store
Address: 340 Bach Dang Street, Ward 14, Binh Thanh District, Ho Chi Minh City
Mobile: 0906860759
Ba Huan Nha Be Store
Address: 433 Nguyen Van Tao Street, Hamlet 2, Long Thoi, Nha Be District, Ho Chi Minh City
Mobile: 0901819759
Ba Huan District 6 Store
Address: 331 Tran Van Kieu, Ward 11, District 6, Ho Chi Minh City
Mobile: 1800 6002
Ba Huan District 12 Store
Address: 469 Nguyen Thi Kieu, Hiep Thanh Ward, District 12, Ho Chi Minh City
Mobile: 0906860759