Ba Huan fresh chicken eggs are produced according to the 3F closed chain principle: "Feed-Farm-Food" or "from farm to fork process" is being developed by agricultural corporations aiming to control product quality comprehensively. At Ba Huan, we have achieved that: from hatching stage – poultry feed – breeding farm – egg handling and processing – commercial eggs – refrigerated vehicle system to transport eggs to distributor (store, supermarket, kitchen, etc.) within 24 hours
Ba Huan fresh chicken eggs have high nutritional value, contain many vitamins A, B, D, E and trace minerals, fat, protein, especially a lot of protein. Suitable for both adults and children.
User manual: Use for making everyday meals.

Storage: refrigerate or a dry and cool place.

Shelf life: 10 days in room temperature and 30 days in refrigerator.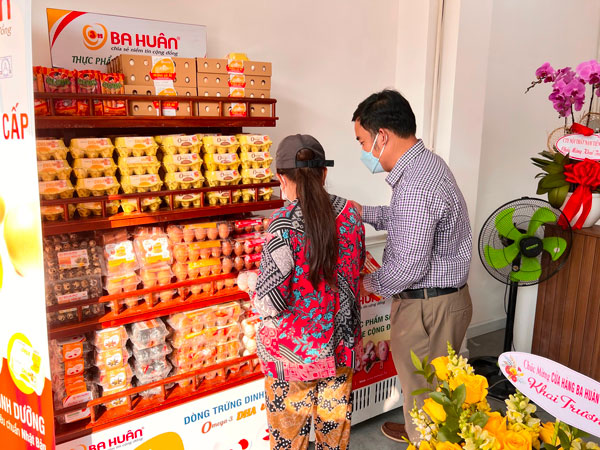 Southern store system
Ba Huan Binh Thanh Store
Address: 340 Bach Dang Street, Ward 14, Binh Thanh District, Ho Chi Minh City
Mobile: 0906860759
Ba Huan Nha Be Store
Address: 433 Nguyen Van Tao Street, Hamlet 2, Long Thoi, Nha Be District, Ho Chi Minh City
Mobile: 0901819759
Ba Huan District 6 Store
Address: 331 Tran Van Kieu, Ward 11, District 6, Ho Chi Minh City
Mobile: 1800 6002
Ba Huan District 12 Store
Address: 469 Nguyen Thi Kieu, Hiep Thanh Ward, District 12, Ho Chi Minh City
Mobile: 0906860759