Dried chicken with garlic
Origin: Vietnam
Packaging: Packet
Net Weight: 50gr, 100gr, 250gr
Ingredients: Chicken, sugar, garlic, soup powder, chili.
Storage: Store at room temperature, in a dry and cool place, away from direct sunlight, and avoid proximity to mice, insects, and harmful pests.
Expiration date: 6 months from the date of production.
Usage instructions: Open the packaging, consume immediately, then close the packaging tightly.
Dried chicken with garlic is made from fresh, high-quality chicken meat from Ba Huân farms, with a clear and guaranteed origin, ensuring food safety and hygiene.
The dried chiken is golden brown and carries the aromatic scent of chicken meat, combined with the distinctive aroma of garlic in dried products. Its taste is a harmonious blend of savory and sweet flavors. All the spices combine to create an enticing taste with a unique flavor that stimulates the palate when enjoyed.
The product is packaged in a zip bag, providing convenience for both usage and storage.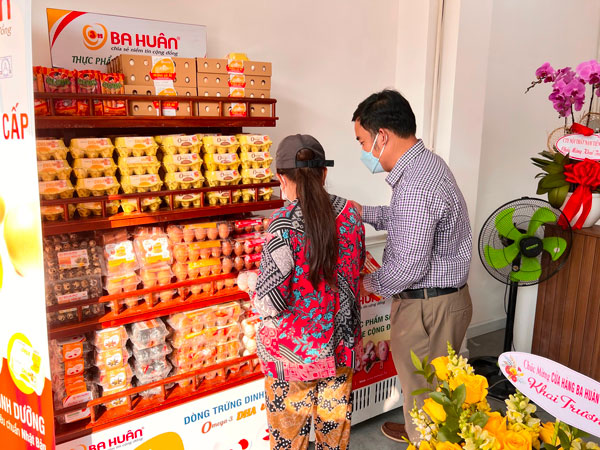 Southern store system
Ba Huan Binh Thanh Store
Address: 340 Bach Dang Street, Ward 14, Binh Thanh District, Ho Chi Minh City
Mobile: 0906860759
Ba Huan Nha Be Store
Address: 433 Nguyen Van Tao Street, Hamlet 2, Long Thoi, Nha Be District, Ho Chi Minh City
Mobile: 0901819759
Ba Huan District 6 Store
Address: 331 Tran Van Kieu, Ward 11, District 6, Ho Chi Minh City
Mobile: 1800 6002
Ba Huan District 12 Store
Address: 469 Nguyen Thi Kieu, Hiep Thanh Ward, District 12, Ho Chi Minh City
Mobile: 0906860759