Origin: Vietnam
Weight: 250gr/ 500gr
Ingredients: Chicken meat, chicken cartilage, chicken skin, pork fat, water, lemongrass, spice blend (herbs, salt, sugar, pepper, chili oil), collagen sausage casing, wheat fiber, soy protein, garlic powder.
Storage: – 2 months from the production date at temperatures between 0°C to 50°C or in the refrigerator.
– 6 months from the production date at temperatures between -12°C to -18°C or in the freezer.
Usage Instructions: Cook thoroughly before consuming or use in other dishes.
Sausage with cartilage made from high-quality chicken meat, carefully selected from Ba Huân farms, using modern technology and meeting food safety standards.
The sausage has a savory taste of meat, a distinctive herbal aroma, and a hint of spiciness, creating a familiar yet intriguing dish due to Ba Huân's exclusive seasoning recipe. It stimulates the taste buds, enhancing the family meal experience.
Enjoy the convenience of a time-saving preparation while savoring a delicious, nutritious, and hygienic dish.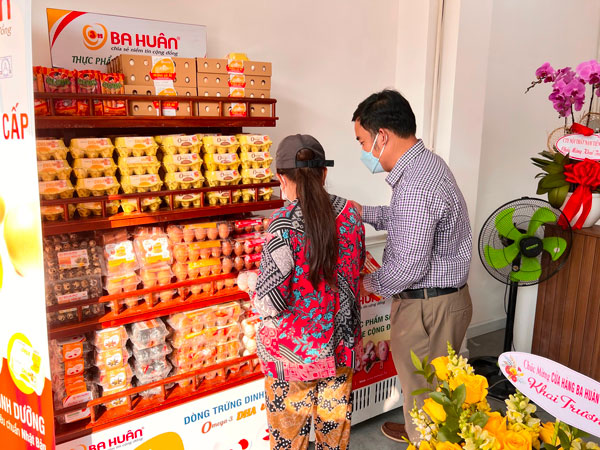 Southern store system
Ba Huan Binh Thanh Store
Address: 340 Bach Dang Street, Ward 14, Binh Thanh District, Ho Chi Minh City
Mobile: 0906860759
Ba Huan Nha Be Store
Address: 433 Nguyen Van Tao Street, Hamlet 2, Long Thoi, Nha Be District, Ho Chi Minh City
Mobile: 0901819759
Ba Huan District 6 Store
Address: 331 Tran Van Kieu, Ward 11, District 6, Ho Chi Minh City
Mobile: 1800 6002
Ba Huan District 12 Store
Address: 469 Nguyen Thi Kieu, Hiep Thanh Ward, District 12, Ho Chi Minh City
Mobile: 0906860759