Origin: Vietnam
Packaging: Packet
Weight: 100gr/250gr/500gr
Ingredients: Chicken, seasoning (salt, sugar, fish sauce)
Storage: Store in a dry, cool place, away from direct sunlight. Avoid storing near harmful insects.
Expiration date: 6 months from the date of production. (15 days refrigerated after opening the packaging)
Usage instructions: Consume directly or use for preparing other dishes.
It is processed from high-quality chicken meat carefully selected from Ba Huân farms, applying modern technology and meeting food safety standards.
The product comes in non-spicy and mildly spicy variations, suitable for different tastes among family members. It is a quick and convenient snack, providing additional nutrients without elaborate preparation or cooking time. Consumers can enjoy it directly or combined with other dishes.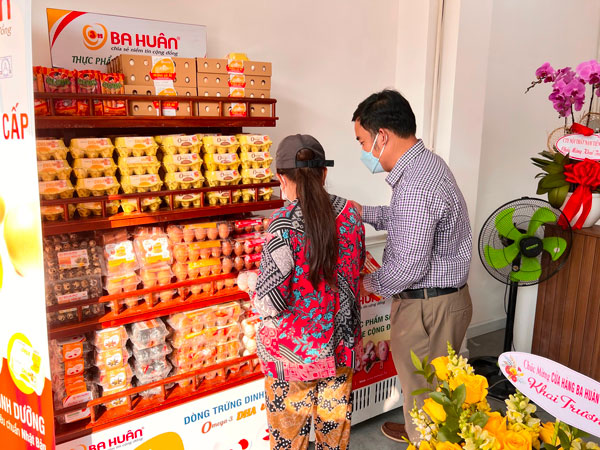 Southern store system
Ba Huan Binh Thanh Store
Address: 340 Bach Dang Street, Ward 14, Binh Thanh District, Ho Chi Minh City
Mobile: 0906860759
Ba Huan Nha Be Store
Address: 433 Nguyen Van Tao Street, Hamlet 2, Long Thoi, Nha Be District, Ho Chi Minh City
Mobile: 0901819759
Ba Huan District 6 Store
Address: 331 Tran Van Kieu, Ward 11, District 6, Ho Chi Minh City
Mobile: 1800 6002
Ba Huan District 12 Store
Address: 469 Nguyen Thi Kieu, Hiep Thanh Ward, District 12, Ho Chi Minh City
Mobile: 0906860759