Chicken Feet with Thai sauce
Origin: Vietnam
Packaging: Packet
Weight: 100gr, 200g, 500g
Ingredients: Chicken feet, chili, lemongrass, galangal, water, sugar, vinegar, ginger, salt, natural lime leaf flavor, chili oil
Storage: Store at temperatures ranging from 0°C to 40°C or in the refrigerator's cool compartment.
Expiration date: 2 months from the date of production.
Usage instructions: Can be consumed directly or used in other dishes.
Chicken Feet with Thai sauce are made from high-quality chicken meat, carefully selected from Ba Huân farms, using modern technology and meeting food safety standards.
This familiar snack combines Ba Huân's exclusive and creative seasoning formula. It creates a unique and delightful blend of sour, spicy, salty, and sweet flavors, setting it apart from other products.
Thai-style chicken feet in a sauce is a playful and joyful snack, perfect for livening dull days.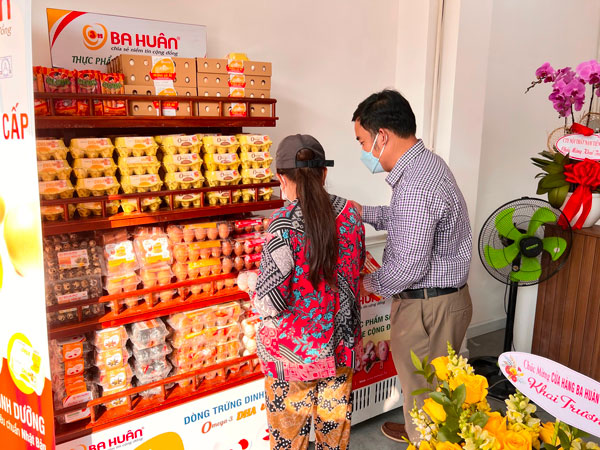 Southern store system
Ba Huan Binh Thanh Store
Address: 340 Bach Dang Street, Ward 14, Binh Thanh District, Ho Chi Minh City
Mobile: 0906860759
Ba Huan Nha Be Store
Address: 433 Nguyen Van Tao Street, Hamlet 2, Long Thoi, Nha Be District, Ho Chi Minh City
Mobile: 0901819759
Ba Huan District 6 Store
Address: 331 Tran Van Kieu, Ward 11, District 6, Ho Chi Minh City
Mobile: 1800 6002
Ba Huan District 12 Store
Address: 469 Nguyen Thi Kieu, Hiep Thanh Ward, District 12, Ho Chi Minh City
Mobile: 0906860759