She knew which land the egg in her hand belonged to, upstream on boats bought and picked up in her childhood, Pham Thi Huan (Ba Huan) built an "egg basket" right in the urban area.
Everything was delicious, but suddenly collapsed due to avian flu… Then, from the decisions "going against the wind", the brand "Ba Huan eggs" should be in shape, ensuring the criteria of clean technology but still full of sentiments of Southern farmers.
"Farmer is alive, I am alive"
In the curriculum vitae for conferring the title of Labor Hero, Ms. Ba Huan's academic title and degree (Pham Thi Huan, born in 1958, Chairman of the Board of Directors of Ba Huan Joint Stock Company. Because of the poor family, when she finished 5th grade at Thanh Vinh Dong village school, Ms. Ba Huan went on a boat up and down the Southwest river to buy and sell eggs.
Therefore, for more than half a century of attachment, Ba Huan can close her eyes and use her hands to distinguish between Can Tho eggs (thick shell, round body) or Rach Gia eggs (thin shell, long body).
Or as she only looked at eggs with many yolks, she knew that they came from O Mon; Kien Giang eggs large white or looking at egg cuong know the origin of "it".
The memory of the woman in the flood brought us back to the old egg-collecting boats. In a fall into the river, she was rescued by a boatman, and then the two became husband and wife. "Having a family, I stopped floating, applied to Kien Giang Agro-Food Company as a worker, only specialized in collecting eggs.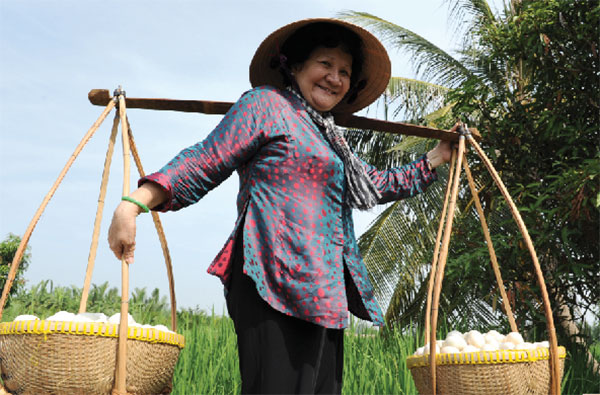 How much salary, I send back to my hometown to support seven younger brothers, and I live off eggs. Back then, the company allowed loss rate was 5%. When the company dissolved, I just went to Saigon to open my own egg barn," said Mrs. Ba Huan.
Skilled, reputable, honest with livestock farmers, soon Mrs. Ba Huan not only has the strength to take care of the children's education, but also has food to eat, then invest to buy more houses. But then "windy waves" came from two waves of avian flu in 2000. How many chickens and ducks were destroyed, how many eggs were in stock that were not sold, Mrs. Ba Huan swallowed her tears and brought them to make salted eggs. The houses in turn had to be sold to pay the farmers, 10 billion dong flew like the wind.
While the poultry industry was scattered, people left the profession, she realized that only clean eggs bring safety to farmers, sellers and buyers. Thinking that, she immediately seized the opportunity from Ho Chi Minh City's preferential loan of 11 billion dong to support interest, she decided to invest in a new one. At the time of "dare to play big", she also could not imagine, until the day Ba Huan egg brand quickly "takes a wave" of 30% market share in Ho Chi Minh City.
"What do you think when the time goes "in the opposite direction"?
"Thanks to that, after the flu pandemic, my clean eggs in blister packs started to dominate the market. Having machines, reducing labor but increasing productivity by dozens of times, I am happy when dozens and hundreds of trucks go to collect eggs throughout the provinces of the Mekong Delta and the Southeast to bring them to the factory. Farmers come back to life, I live again, big businesses like Kinh Do, Bibica, Duc Phat, Vinabico… all take my eggs because of their stable, reputable and clean quantity.
If the price is low, seeing that the farmers are raising losses, I will buy them all to raise the price so that the farmers will not suffer. If the price is high and the goods are sucked, I can also sell 500-600 thousand eggs to stabilize the market."
Understanding the market and grasping modern consumer psychology, in February 2017, Ms. Ba Huan inaugurated an Egg Processing Factory in the north with a processing capacity of 65,000 eggs/hour. With modern production technology, eggs after being processed are coated with oil on the outside of the egg shell to help prevent bacteria from entering as well as increase the storage time. Recently, she added a second line with a capacity of 120,000 eggs/hour.
This line is 100% automated from egg loading, washing, drying, protective oil coating, UV sterilization, egg screening and finished product packaging. Egg products are treated with UV rays, which through scientific research and testing have shown to have killed 99.9% of harmful bacteria on eggs.
Ba Huan always thinks about her homeland, thinks about the community
Not only is the example of a typical entrepreneur in agriculture, the image of Mrs. Ba Huan has great influence and encouragement for every Vietnamese farmer who is cherishing the desire to get rich. In February 2017, Forbes Magazine voted Ms. Ba Huan as one of the 50 most influential women in Vietnam.
In 2016, the Food and Agriculture Organization of the United Nations (FAO) selected Ms. Ba Huan as the only representative of Vietnam to receive the "Typical Farmer" award in the Asia-Pacific region.
"Farmers come back to life, I'm alive again, big businesses like Kinh Do, Bibica, Duc Phat, Vinabico… all take my eggs because of their stable, reputable and clean quantity."
"Every day, I have enough energy to launch 1-2 million clean eggs to the market. If the price is low, and I see farmers losing money, I buy them all to raise the price so that the farmers don't suffer. If the price is high, the goods will not be sold. sucked, I can also sell 500-600 thousand eggs to stabilize the market." Ms. Pham Thi Huan shared.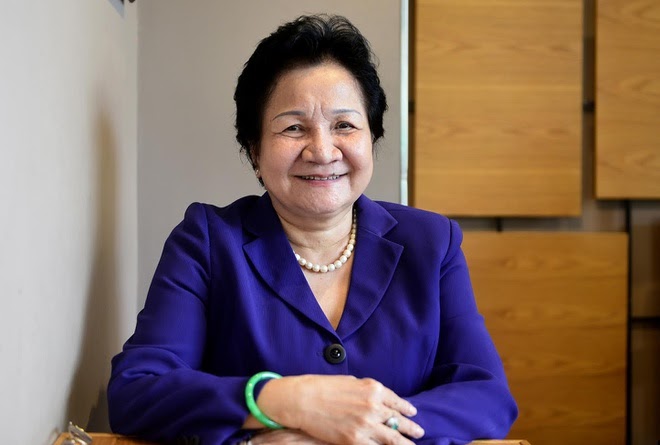 Tens of thousands of small poultry farmers or large-scale farms in Vietnam, agents and workers in the field of poultry egg production are all related to Ba Huan. Ms. Ba Huan always gives without calculation with social charity programs, activities to help the poor, poor farmers.
Programs: "Tết làm điều hay", "Xuân yêu thương", "Chung một tấm lòng", "Gắn kết yêu thương", "Hỗ trợ người hồi gia", "Nối vòng tay lớn", "Học bổng Vừ A Dính", "Góp đá xây dựng Trường Sa"… all have the name of Ms. Ba Huan participating with the total support from 2009 to 2019 is more than 35 billion VND. Although she was not well-educated, most of the officials, employees and employees in Ba Huan were given conditions for advanced study and attended classes at home and abroad.
In addition to learning knowledge, the people working here also learn more about love for the motherland, love for labor, and love for people through training sessions on learning about the Party. They inherited the tenacity to cross the waves with their bare hands from the company's owner: Labor Hero Pham Thi Huan.