The "from farm to table" clean agriculture model is currently a trending production approach, receiving significant support from customers. Adhering to the closed-loop 3F principle of "Feed – Farm – Food processing," agricultural corporations are embracing this model to ensure comprehensive product quality control. This approach involves integrating the production chain from animal feed to livestock farming and food processing facilities, ensuring a holistic approach to quality management. 
In the past, the livestock industry was divided into various stages such as breeding, feed production, processing, and consumption. Each stage had its own separate processes, tasks, and risks, which could potentially impact the final product when it reached consumers' hands. The separate divisions and the challenge of controlling output quality sometimes made it difficult to achieve uniform product quality as desired by the producers.
To effectively control quality from input to output, production requires a synchronized model that encompasses breeding, feed production, livestock farming, processing, and food supply, with all stages interconnected and transparent.
At Ba Huân, we have achieved this by implementing a comprehensive model that covers the breeding stage, poultry feed production, livestock farming, egg processing, production of marketable eggs, and a refrigerated transportation system to distributors (stores, supermarkets, kitchens, etc.). All stages, from raw materials to finished products such as poultry eggs and processed food products, are carried out within Ba Huân's closed-loop system. This allows us to easily verify the product quality and identify any potential issues at each stage, enabling intervention and resolution before the products reach consumers.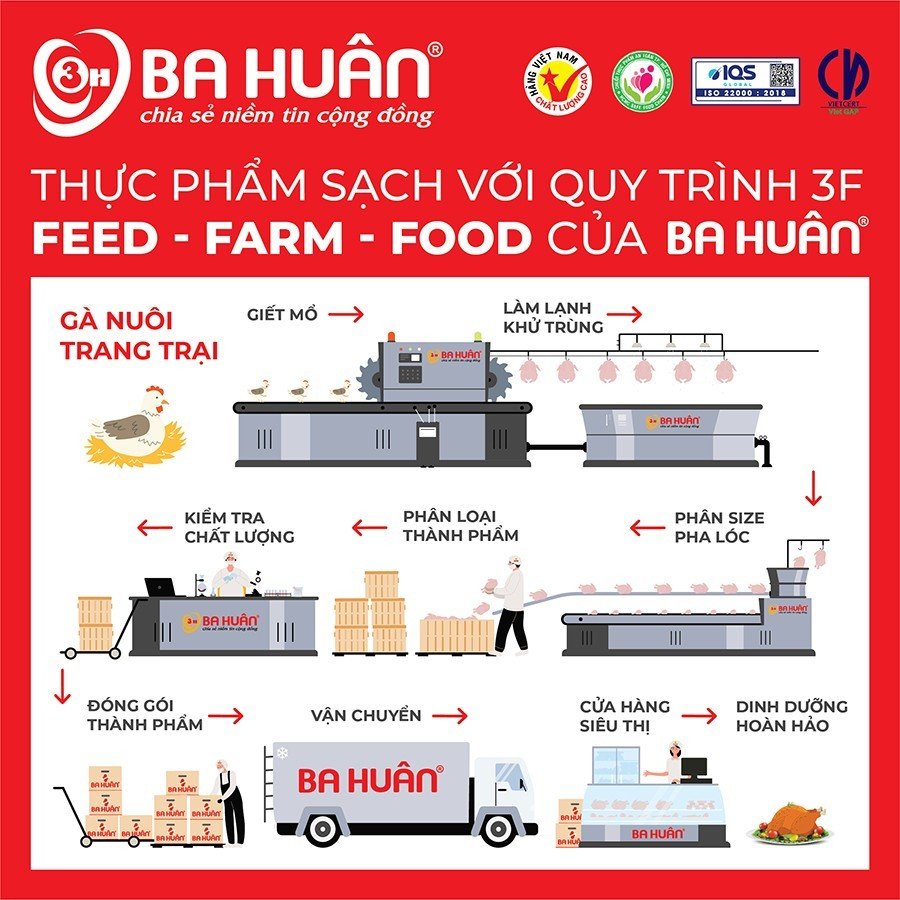 Applying this standardized model in production requires Ba Huân to meet specific standards for each stage. Our facilities, processes, products, and environment all meet various certifications and standards, including VietGAP, HALAL, ISO 22000-2018, VNCLC 2022, Food Safety Chain, Disease Safety Certification, and Environmental Protection Certification.
Eggs have a thin and fragile shell with thousands of air pores, which can allow bacteria or contaminants to enter the inside of the egg. To ensure food safety and preserve the nutritional value of the eggs, Ba Huân has invested in importing an entire egg processing line from Moba (Netherlands), one of the leading suppliers of high-tech agricultural machinery in the world. Eggs from livestock farms are transported to the central processing plant within 24 hours. With Ba Huân's 8-stage egg processing line, the eggs undergo meticulous treatment before packaging. The closed-loop process includes the eggs passing through machines for inspection, weighing, and sorting based on weight, as well as removing contaminants that are not visible to the naked eye.
Specifically, the eggs transported from the farms to the processing plant are thoroughly washed twice with tested clean water. They then go through a drying system and undergo UV light exposure to kill bacteria on the eggshell surface. The UV light from the Moba machine has the ability to eliminate 99.9% of bacteria. Next, the eggs are examined under a light system to detect and remove any defective or cracked eggs. They are then coated with oil to seal the air pores on the eggshell surface, thereby limiting the re-entry of microorganisms. The final steps include labeling and marking for traceability, weighing, and packaging the finished products.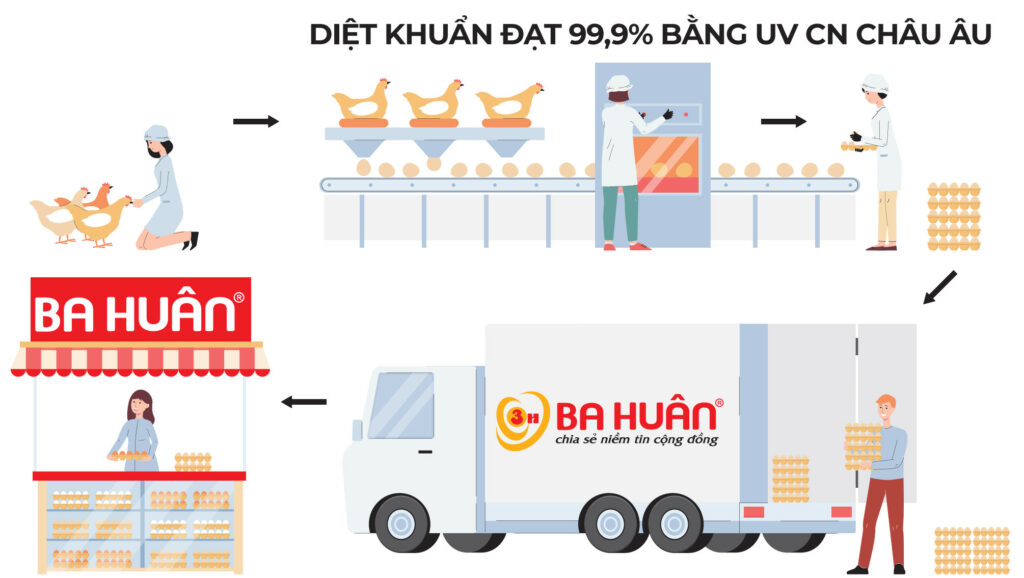 Ba Huân currently owns two egg processing plants. One is located in Tan Nhut – Binh Chanh with an area of over 6,000 square meters and a MOBA machine capacity of 185,000 eggs per hour. The other is the Ba Huân High-Tech Poultry Egg Processing and Processing Plant in Phuc Tho District, Hanoi, with a scale of over 2,000 square meters, a total investment of over 110 billion VND, and a processing capacity of 65,000 eggs per hour.
With the value chain of the closed-loop 3F production system, Ba Huân has become a strong company in the field of poultry egg and chicken meat production. It continues its mission of "Sharing Community Trust" by providing the best products for domestic consumers as well as for export. Over the years, Ba Huân has been a reputable supplier of safe and hygienic food at stable prices for many Vietnamese families.