Director of Ba Huan Corporation – Ms. Pham Thi Huan is known as Ba Huan, Ms. Ba duck seeds, Queen of duck seeds. The names are close and dear, especially to the working class, the working poor, especially during the time of the raging COVID-19 pandemic.
Establish a business from a boat going around the Mekong River
"Difficulty when the pandemic hits are something all businesses and entrepreneurs have to face, but after the rain, the sun will shine again, when there is flood, the silt will return" – that is the mind of Ms. Pham Thi Huan, Director. Ba Huan Corporation.
She only finished 5th grade, always considered herself a person with "not many words", but Pham Thi Huan made many people admire her humanistic business philosophy and the times when she "wasted against the current" with the majority to bring miracles again.
Occupying 25% of the market share of all kinds of eggs in Ho Chi Minh City, although she is not one of the top enterprises in Vietnam and Ba Huan is not the richest person in the top, what this business woman achieves can be considered a miracle. Up to now, her company has 3 egg factories and 2 poultry farms and is a pioneer in bringing egg processing technology to Vietnam. Ba Huan has a low starting point, but Ba Huan's will to overcome difficulties and natural business skills still makes the business world respect.
As the third child in a poor family with 8 siblings, at the age of 12, Ms. Pham Thi Huan had to drop out of school to help her mother raise her younger brother. At the age of 16, she was handed over by her mother to carry eggs, both taking care of the children and taking care of the livelihood of the whole family.
From a young age, following his mother on a gourd boat up and down the Mekong River, collecting and distributing poultry eggs throughout the western provinces, from Long An to Kien Giang, Ba Huan soon showed his business talent and quickness. learn. After liberation, she applied to work for Kien Giang Agricultural Products Company. Every time there was a broken egg, she asked to sell it to take care of the children's education. Knowing that she has experience with poultry eggs, the company's leaders assigned Ba Huan to collect and distribute eggs from the West to Ho Chi Minh City.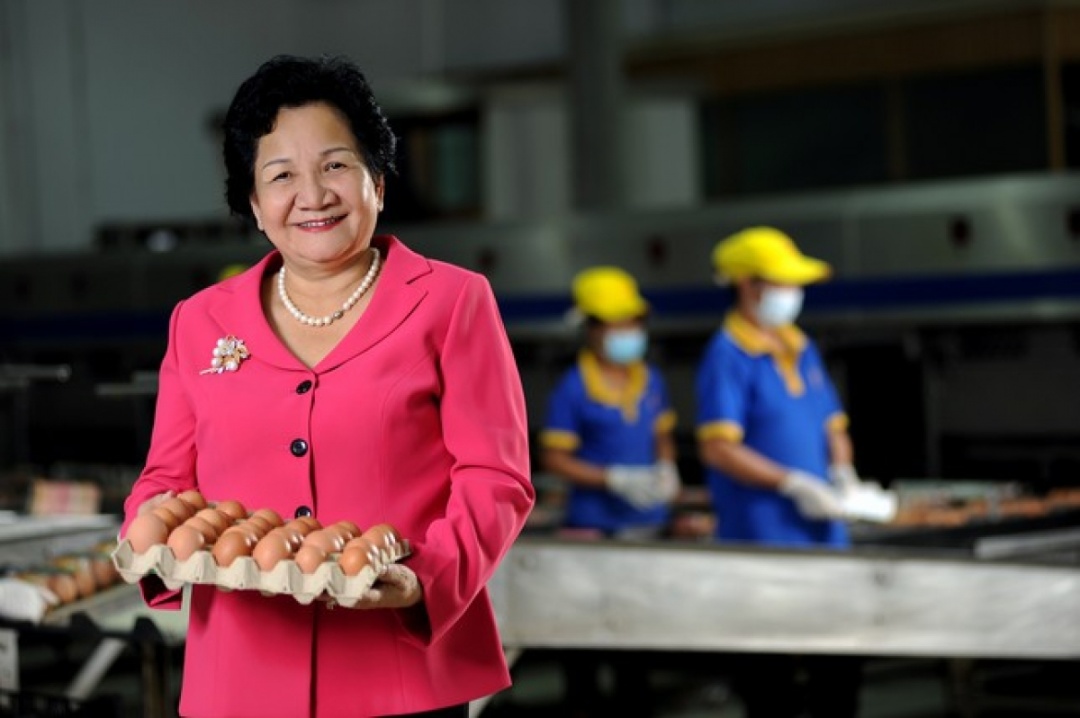 In 1985, Kien Giang Agricultural Products stopped trading poultry eggs, so Ms. Huan opened an egg business named Ba Huan in Cho Lon. In 2001, Ba Huan egg barn became Ba Huan Co., Ltd. with a charter capital of more than VND 5 billion, creating jobs for more than 100 local workers. Since then, Ba Huan has become a brand that sticks with consumers.
Although she "doesn't know many words", her keen intuition and natural business aptitude have helped Ba Huan become an excellent businesswoman. She always recognizes the right time to innovate the business model and invest in more technology, ensuring product quality when launching. Therefore, not only being a familiar and prestigious brand with domestic consumers, Ba Huan egg products are also exported to many international markets such as Hong Kong (China), Malaysia, and Singapore.
The times "upstream" make miracles
In 2003, avian flu pandemic broke out in the country, tens of thousands of poultry eggs had to be destroyed, leading to bankruptcy of many breeding families. Losing the supply of raw materials, Ba Huan company lost nearly 6 billion dong. In the midst of difficulties, Ms. Ba Huan had to sell a house to rebuild her career in accordance with the new food safety requirements.
When the business showed signs of warming again, in early 2005, the H5N1 bird flu outbreak again broke out, causing Ba Huan and many other businesses in the same industry to face the risk of bankruptcy. At this time, Ms. Huan thinks it's time to find a solution to completely solve the problem.
It is known that abroad has a line of modern bacteria treatment technology for poultry eggs, she traveled to the Netherlands – which had the most modern clean egg processing process in the world at that time, with a capacity of 6,000 eggs/hour to learn.
Returning home, she decided to reduce the factory and land to spend money to invest in importing this new technology. Ba Huan's idea was met with fierce opposition from friends and relatives, only her mother was the only person who supported her.
Mrs. Huan recalls: "At that time, everyone prevented her: "This woman is crazy, she has money to invest in land, why would she tinker with each egg to know when she will be rich?" Only my mother is the only one who supports me. Mom said: 'Now that I have a brand reputation, I have to keep my passion for the profession to be able to break through. I live for others. I don't have spare money, I just worry about how I can have enough knowledge and understanding of science and technology, so as not to be deceived by people."
Not knowing foreign languages and not very knowledgeable about modern machinery and technology, but after a field trip to ShangHai (China), Ba Huan still decided to "all hands" invest in automation equipment systems. capable of processing clean eggs up to 99.9% in accordance with international standards with a capacity of 65,000 eggs/hour.
In mid-2018, Ba Huan accounted for more than 30% of the pasteurized egg market in Vietnam, supplying 1.7 million eggs, 15,000 chickens and processing 25 tons of chicken every day. At the same time, the company also redirected product development, continuously launching a line of nutritious eggs with omega 3, DHA, and vitamin E supplements. In early 2019, Ms. Ba Huan signed a contract with ISE Corporation of Japan to supply instant fresh chicken eggs for supermarket chains, Japanese stores in Vietnam.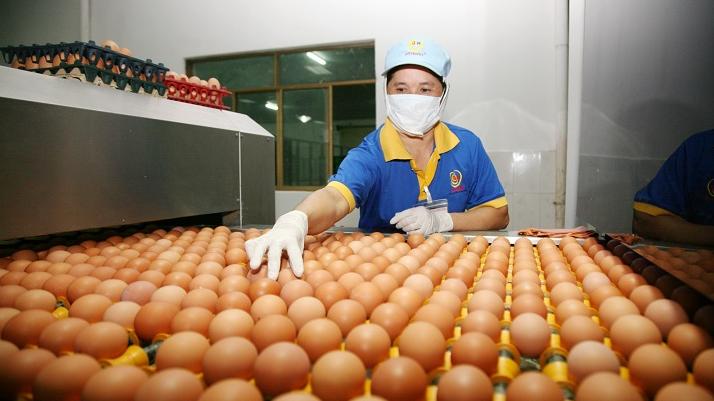 Humanistic business philosophy
In 2021, when the 4th wave of COVID-19 broke out in many big cities, people's demand for food storage increased; While many businesses and small businesses took advantage of the opportunity to increase the price of eggs to make a profit, Ms. Ba Huan twice refused to increase the price.
At that time, in many places, eggs were sold for 40,000-50,000 VND/dozen, while Ba Huan's eggs were still priced at 28,000 VND/dozen. Despite facing many difficulties to produce "3 on the spot" during the epidemic season, Ms. Huan remained steadfast in her goal of stabilizing egg prices because "only poor people use a lot of eggs", despite being approved by the Department of Industry and Trade. Ho Chi Minh City increased the price by 2,000 VND/dozen to support businesses.
Self-confessed that his business does not have billions to support the State in fighting the epidemic, buying vaccines and masks, but Ba Huan's refusal to increase 2,000 VND/dozen eggs every day has helped consumers nationwide to save money. 200 million per day. This is Ba Huan's contribution to the fight against the pandemic.
Experiencing many events, but in Ba Huan, people always see an admirable spirit of optimism, positivity and will to overcome difficulties. During the epidemic, when many businesses had to close down and were on the brink of bankruptcy, businessman Pham Thi Huan still kept the spirit of "steel" to continue trying to overcome: "Although, it is difficult during the pandemic. It is something that all businesses and entrepreneurs face. But, after the rain, the sky is bright again, when there is a flood, the silt will return."