Ba Huan Company completed the food safety and hygiene production chain from farm to table, experiencing two spectacular breakthroughs thanks to the strength of technology.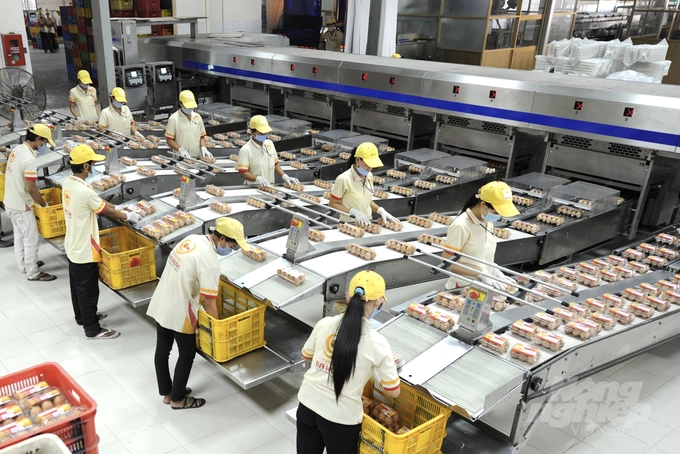 Itinerary meets Vietnamese and Japanese standards
Used to supply instant fresh chicken eggs (without being processed) to supermarket chains and stores of Japan's ISE Group in Vietnam, since 2018 Ba Huan Company has shifted to develop nutritional and supplemental egg lines ingredients Omega 3, DHA, vitamin E. The outbreak of the Covid-19 pandemic disrupted the plan but triggered the birth of ideas for many other product lines, such as marinated chicken, smoked chicken, potential eggs …
Established in 2001, Ba Huan Company has a charter capital of 8 billion VND, in 2016 it became a Corporation. Ba Huan Company has really "makeover" thanks to the bold decisions of Mrs. Ba Huan. She recounts: "Led by my parents to run a business from the age of 12, I started a business at the age of 16. At that time, going back and forth from Long An to Kien Giang collected and distributed poultry eggs. It wasn't until 1985 that I decided to open my own egg barn in Cho Lon and raise Ba Huan brand.
Phase 1: In 2001, Ba Huan Company boldly purchased the egg processing technology line of Moba Group (Netherlands) which was considered the most modern in Europe in 2003. The line can process eggs about 65,000 eggs/hour. The factory operates an automatic egg processing technology line at all stages (Egg washing (2 times) – Drying – UV irradiation – Detecting damaged and cracked eggs; protective oil coating to avoid penetration of bacteria from the outside into the egg); The factory area is always maintained at a temperature of 24-25oC to ensure quality.

Phase 2: Eight years later (2009), right at the time when Ba Huan Company was voted by consumers as the first high-quality Vietnamese goods enterprise, the company imported a second production line with a capacity of 120,000 eggs/ hour.
With these two lines, all production activities of the factory are automated from the input of raw materials, inspection, egg selection, cleaning, stamping, etc., until the finished product packaging. In 2017, Ba Huan met the criteria of High Quality Vietnamese Goods – Integration standards, from the foundation of modern technology, domestic consumers can enjoy not only fresh eggs, fresh chicken but also new products such as: Sausages, sausages, spicy chicken feet…
Enclosed Process – Automation
Ms. Pham Thi Huan, Chairman of the Board of Directors of Ba Huan Company, said that the egg and broiler chicken farms in Binh Duong and Long An all follow the standards of Hy-line Group (USA); machinery and equipment imported from the Netherlands, the whole breeding process is completely isolated from the outside environment.
Enclosed cage model, cooling system and temperature regulation by automatic sensor system. Strict disinfection system on the systems of drinking water, food, egg collection, lighting, feces loading… All processes of Ba Huan egg production are 100% automated
In order to obtain the best quality product, the breeding stock is rigorously screened under the supervision of experienced engineers and followed a balanced regimen of precise nutrition. Egg breeders have high viability, good reproduction rate, each breed can give up to 270-300 eggs/year with good quality. Poultry feed is strictly selected from input materials, ensuring the right nutritional content, minimizing the use of antibiotics, quality testing results are publicized on the media communication to customers.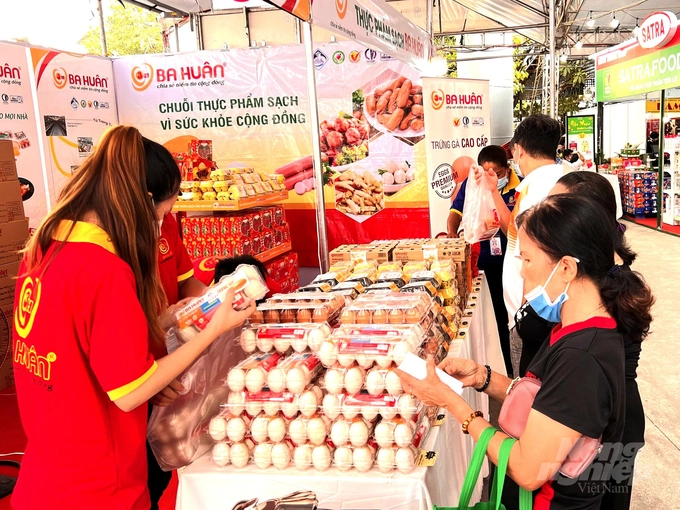 Currently, Ba Huan is one of the largest suppliers of poultry, eggs in the country with an estimated market share of about 30%. In Ho Chi Minh City, the business provides about 1 million poultry eggs per day. The company has 12 affiliated units, 4 factories, 3 livestock farms, 6 distribution stores; The company's products are present in 3,000 large and small supermarkets nationwide…
"The company has and will spend a lot of time and resources on research and application of new techniques in animal husbandry, food processing and preservation, contributing to promoting clean agriculture for life", Ms. Ba Huan said. , who led Ba Huan Company to conquer the market by "standardization", at the same time winning the title of High Quality Vietnamese Goods and High Quality Vietnamese Goods – Integration Standards, said.