Always identifying herself as a farmer, Ms. Pham Thi Huan – General manager of Ba Huan Company has been working with eggs her whole life, accompanying farmers and poor workers to overcome the Covid-19 pandemic…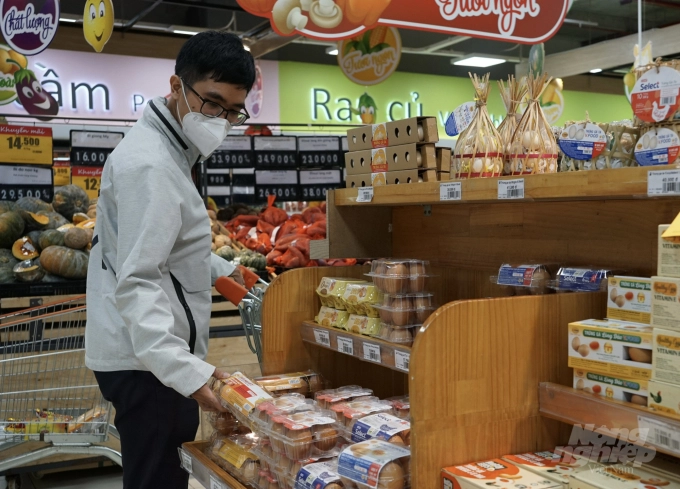 An  all- encompassing love for agriculture
At the age of 16, Pham Thi Huan took over the business of egg-carrying eggs left by her parents. Overcoming all difficulties, ups and downs, with her acumen to the market, she gradually built the most modern egg processing factory in Southeast Asia with a capacity of 65,000 eggs/hour and became the first in the world pioneer in the industrialization of the poultry egg industry in Vietnam.
After more than 50 years of business, more than 10 years of applying industrialization of agricultural products to the poultry industry, Ba Huan has now closed the production process according to the food safety and hygiene chain from farm to table food according to high technology standards with a total investment of more than 1,500 billion VND.
Always fair in business and thinking for the benefit of poor farmers, Ms. Huan is increasingly loved and accompanied by farmers and business partners. It can be said that, through many ups and downs, with a complete love for the country's agricultural industry, Ms. Pham Thi Huan has always determined her "mission" to connect the flow from farmers to consumers. Up to now, Ba Huan provides 30% of poultry eggs for the people of Ho Chi Minh City.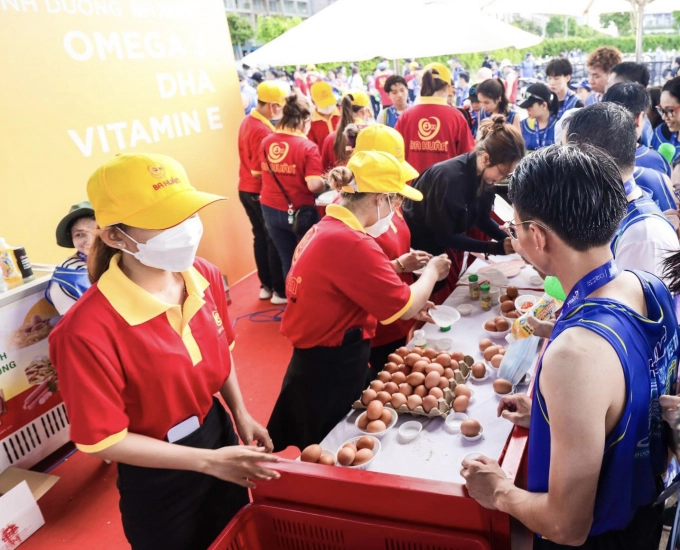 "I want development so that farmers have a tight unit of consumption, without having to worry about output. We develop our own breeding stock, animal feed, etc. to bring to consumers quality products, food safety and hygiene with a closed process", Ms. Huan shared.
In order to gain the trust of Vietnamese consumers, over the years, Ba Huan has invested, approached science and technology, trained workers… All closed processes of the whole chain are certified high technology. With a closed food model chain from farm to table, opening a new door in business, Ba Huan company has researched more processed products to enrich the products put on the market, in addition to Fresh poultry meat, sausages, sausages, chicken balls also have more spicy and sour chicken legs, marinated chicken … convenient, suitable for Vietnamese culinary tastes.
Currently, Ba Huan has an 18-hectare egg-raising chicken farm with a total herd of over 1 million in Binh Duong divided into subdivisions such as Hy-Line breed chickens, gilts, egg-producing chickens, and food processing plants animal feed, technical room and breeding stock selection.
Enclosed production chain from farm to fork
In order to have good quality products, according to Ms. Huan, the breeding stock is strictly screened under the supervision of leading experts and follows a balanced diet of correct nutrition. Chicken breed, egg breed has high survivability, good reproductive rate, each breed can give up to 270-300 eggs/year with good quality.
The feed is produced according to a closed process, all manipulated and programmed on a system of modern computerized equipment, creating synchronous quality, meeting the requirements for chickens of all ages.
At Ba Huan farm, feed products are strictly selected from input materials. Feed norms follow the schedule, minimizing the use of antibiotics. In particular, it is necessary to ensure the right nutritional content to achieve a stable content, in accordance with the standards announced by Ba Huan and be monitored and tested for a long time before the product is put on the market. Quality testing is carried out monthly, the quality test results are publicized on the media so that consumers have confidence in the product.
The livestock barn system is applied according to the closed cage model. The livestock coop is arranged with an automatic cooling system to create the right temperature for the growth of chickens. Chicken manure is transferred to a manure treatment plant. Inside the livestock barn, the temperature is controlled by automatic temperature sensing systems. The systems used in the barn are 100% automated such as systems: drinking water, food, egg collection, light, manure loading, etc.
"This model creates a safe protective environment, avoiding the surrounding animals from entering, infecting pathogens and spreading diseases to the chickens in the farm. The breeding area is completely isolated from the outside, disinfection gates are arranged right at the entrances to the breeding area. Before entering the farm, staff and workers must go through very strict washing and disinfecting steps to protect the absolutely safe environment for breeding animals, "said Ms. Huan.
In addition, Ba Huan also has a chicken farm with a scale of 34ha with a total flock of over 5 million heads in Long An; 1 animal feed factory with a capacity of 20 tons/hour; two poultry egg processing plants with a capacity of 300,000 eggs/hour in Ho Chi Minh City and Hanoi; a food processing factory in Long An with a capacity of 50 tons/day; General livestock farm in Ben Luc, Long An with a scale of 50ha.
Up till now, the distribution system of Ba Huan Company has covered supermarkets in the provinces and cities, is the partner of most fast food companies, manufacturing enterprises with ingredients from eggs and poultry. And Mrs. Pham Thi Huan was called by many people with the dear name "Queen of duck seeds" since then.
Let the poor workers have eggs to eat in difficult times
During the two years of the Covid-19 pandemic raging, Ms. Huan said, never before, businesses have faced such difficulties. Social distancing, disrupted supply chains, sudden increase in food and transportation costs have caused many companies to increase the selling price of eggs to VND 30,000-40,000 per dozen. Some days, trucks lined up for nearly a kilometer at the factory gate to wait for eggs, but her company still decided to sell at a stable price, not raising prices.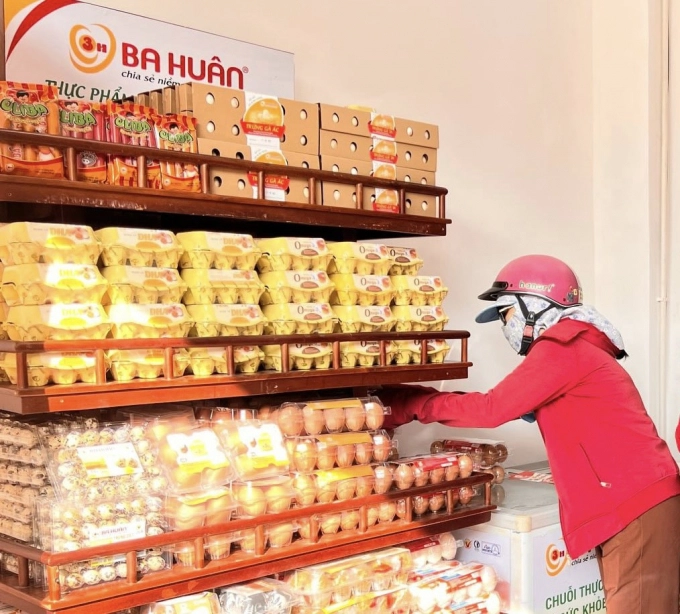 "Working in agriculture for decades, I know that the hardest workers are still the poor, they are the people who use eggs the most, especially at the time of the Lunar New Year.
During the Covid-19 epidemic, many people advised me to increase the price, but I refused. It is true that raw materials increase, gasoline increases, food increases, so if we do not increase the price, there will be a risk of having to make up for losses. But during the time of the whole country's fight against the epidemic, people also went to give relief from 5 to 10 billion to buy vaccines, while I worked in agriculture, I had eggs, I supported my compatriots, and supported Ho Chi Minh City and neighboring provinces in terms of prices to help the working people partly alleviate the difficulties. What do you want after the gap, when the epidemic subsides, then I sit back and calculate the profit later. Work for a lifetime, not for the first few months!", Ms. Huan shared.
Her business had to maintain production with the arduous "three on-site" model, plus the shortage of labor during the time of Directive 16. However, thanks to the support and direction of the Government, the Ministries and departments, especially the Ministry of Agriculture and Rural Development, Ministry of Industry and Trade, leaders of Ho Chi Minh City, her business has not broken the supply chain, products are still supplied from the factory to the table of each family at a reasonable price. Stabilization.
Especially during Tet, to support poor workers, her company reduces prices. At the same time, Ba Huan company also contributed its products to Ho Chi Minh City's departments and agencies to support gift packages for workers and workers in difficult circumstances during the peak of the Covid-19 epidemic. 19. "I hope everyone can have a warm Tet with their families with braised duck meat and eggs", said Mrs. Huan while smiling.
According to Ms. Huan, with the "three-in-place" model, it incurs many costly costs, but in return, the business can still maintain production, more than 900 employees of the factory do not lose their jobs and are very important. It is important to still provide enough egg production for the people.
Ms. Huan said that at the beginning of 2019, Ba Huan signed a contract with a Japanese corporation to supply instant fresh chicken eggs without processing to Japanese supermarket chains and stores in Vietnam. Although Ba Huan egg products have been exported to Hong Kong, Singapore and Malaysia markets, Ba Huan always identifies the domestic market as the main market.
Especially, in the past two years, when the Covid-19 pandemic occurred, Ba Huan Company suspended the export of salted duck eggs, focusing on the domestic market. "Whoever in this industry can see, farming is very hard, but it connects the flow between producers, livestock and consumers, bringing the two sides closer together. The program "Ba Huan goes to every home" is the spirit of responsibility of businesses to consumers," said Ms. Pham Thi Huan.
Pham Thi Huan, Chairman of the Board of Directors of Ba Huan Corporation, has been attached to the chicken and devoted to the egg all her life. She always wished that Ba Huan Company would grow stronger and stronger so that together with farmers and Vietnamese agriculture, they could reach out to the big sea.