Eating raw fresh eggs is no longer unfamiliar to food enthusiasts who enjoy indulging in delicious and enticing dishes, or to those who engage in physical fitness and require high nutritional intake without spending too much time. Using raw eggs directly is an optimal solution. However, what benefits does consuming raw eggs bring, and what aspects should be considered to ensure food safety and hygiene? These are all top priorities when choosing Ba Huân's eggs.
IS EATING RAW EGGS GOOD OR NOT?
Eggs are a nutritious and healthy food. They are a familiar and versatile ingredient in Vietnamese and global cuisine, ranging from quick and simple meals to more elaborate dishes. Eggs are a moderately priced product and are rich in essential nutrients such as vitamins, minerals, and high-quality proteins that are beneficial for the body.
Eggs contain various vitamins such as vitamin A, B2, B5, B12, as well as other nutrients, proteins, and fats. They also provide essential minerals like magnesium, phosphorus, calcium, zinc, and iron. In one chicken egg, there are approximately 70-75 calories, 5g of fat, and 0.5g of carbohydrates. Of particular note is the protein content, with about 6g of protein in one egg, divided between the egg white and yolk.
Eggs offer numerous benefits for physical activities. They support muscle, cardiovascular, immune, digestive, and nervous system functions. Additionally, the nutrients found in eggs, such as Omega-3, DHA, and Vitamin E, contribute to improving skin health and effectively combating aging. Eggs are especially rich in protein, making them an essential part of a balanced diet. They are particularly suitable for individuals who are trying to lose weight or engage in exercise and sports activities.
IS EATING RAW EGGS SAFE?
n most countries, concerns about eating raw eggs are normal because consuming raw eggs can potentially cause salmonella poisoning, with symptoms such as stomach cramps, fever, and prolonged diarrhea. There have been cases of severe salmonella poisoning that can even lead to death. So, is eating raw eggs too dangerous? Don't worry, in the effort to ensure food safety, Ba Huân has implemented international conversion processes and incorporated safety methods into the production process to guarantee the safety of consuming raw eggs directly.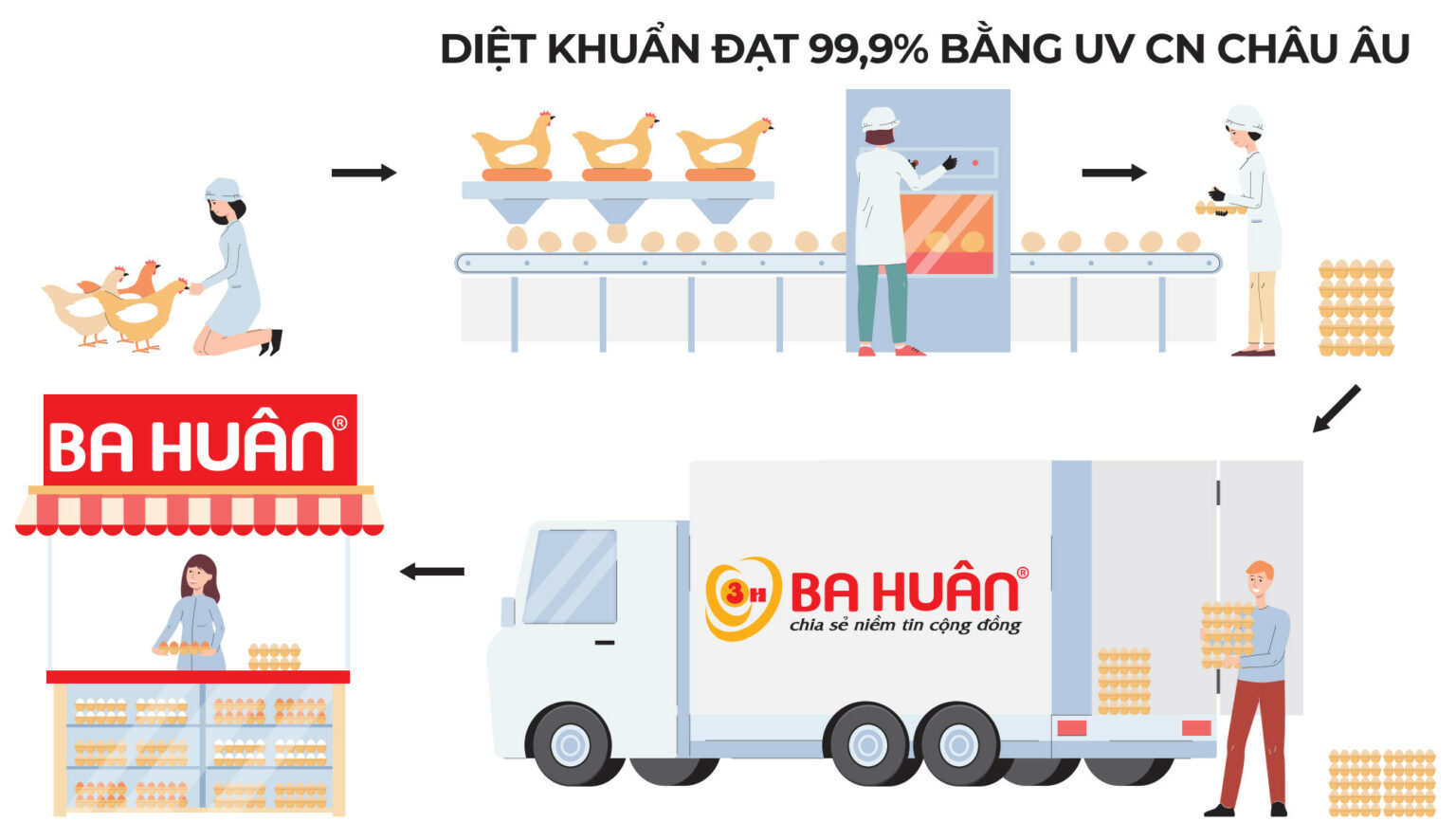 Thanks to strict procedures and regulations for egg production at Ba Huân's processing plants and poultry farms, the risk of salmonella poisoning from consuming raw eggs is virtually non-existent. The hygiene standards for Ba Huân's poultry farms are strictly enforced, with farm workers required to wear more protective gear when entering the chicken coop. Measures for disinfection and additional preventive measures are implemented to prevent chickens from coming into contact with sources of infection such as wild birds, insects, and other animals. This ensures that chickens are not infected with salmonella, thereby reducing the risk of disease transmission to the eggs.
Most importantly, when harvested, the eggs go through a meticulous system and mandatory processes. Each egg is individually treated in a separate sterilization machine and checked for issues such as cracks, dirt, or blood spots. The sterilization machines even scan the eggs for signs of bacteria or eggs that do not meet the standards in order to eliminate them. Immediately after that, the eggs are promptly transported to stores, so Ba Huân's fresh and nutritious 24-hour fresh eggs reach consumers in a very fresh state.
WHERE TO BUY RAW EGGS?
Currently, customers can directly visit the GO! Supermarket at Nguyen Thi Thap, District 7, Ho Chi Minh City to purchase high-quality fresh and nutritious eggs that are suitable for consuming raw. The eggs at this counter are always quickly transported from the factory to the supermarket and sold within 24 hours for each batch of eggs. By tightening the transportation and usage time, Ba Huân aims to provide the highest quality and safest eggs for consumers.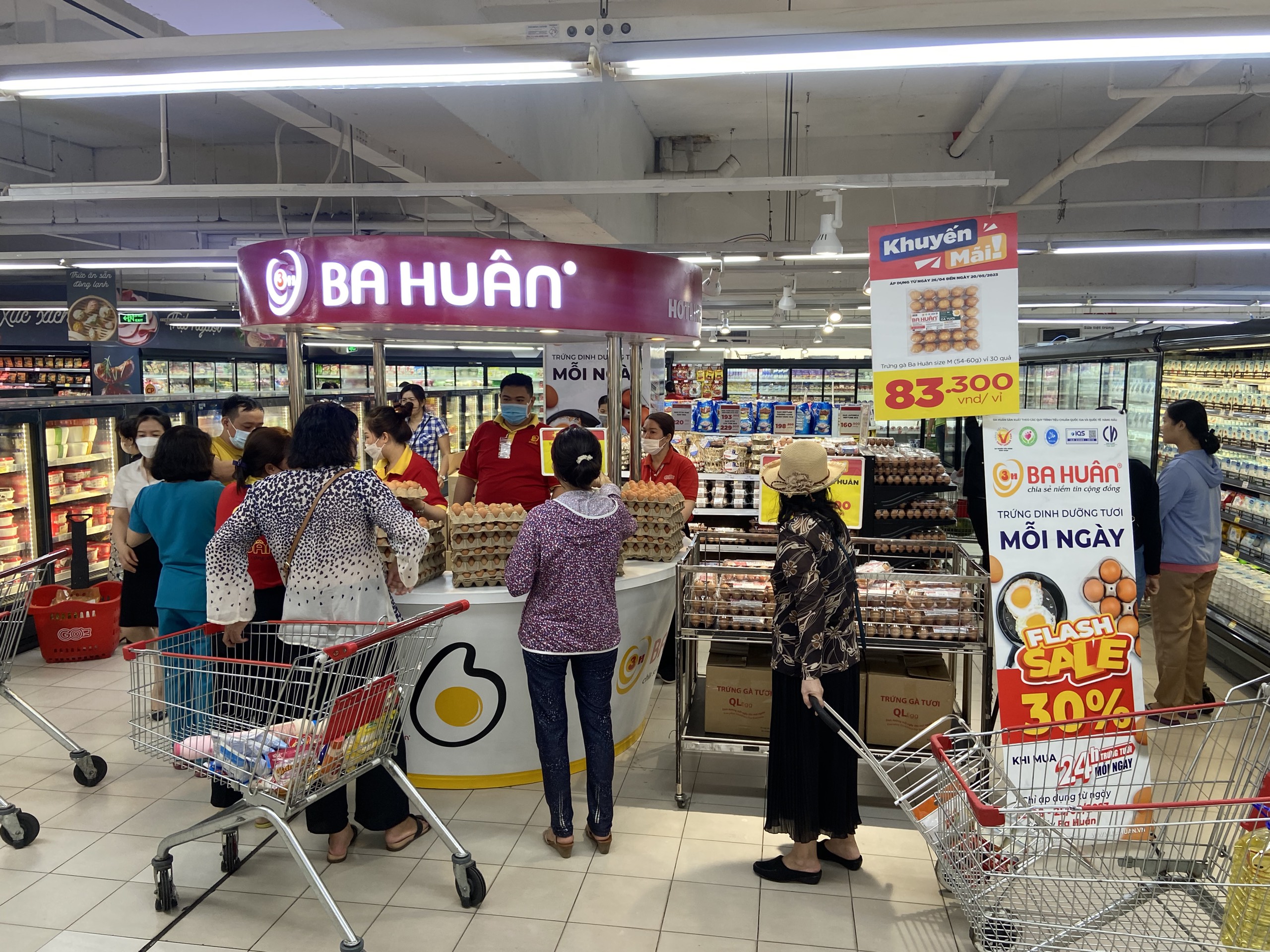 Despite the significantly shortened time compared to other packaged eggs, they are still processed using the most advanced and comprehensive system implemented by Ba Huân. All the processes and quality of Ba Huân's eggs meet the standards and are certified by regulatory agencies and reputable organizations such as the Vietnamese High-Quality Product certification, Safe Food Chain certification, Halal certification for Islamic food standards, ISO 22000:2018 certification for food safety management systems, and VietGAP certification for farming practices.