The model of clean agriculture "from farm to fork" is currently a common production trend that has received a lot of support from customers. Following the 3F closed chain principle "Animal feed – Livestock farm – Food processing factory" is the aim of agricultural corporations to control product quality comprehensively.
Previously, the livestock industry was divided into several stages such as breeding, feed production, processing and consumption, in which each stage had its own processes, separate stages, or separate risks…. that may have certain effects on the final product when delivered to the consumer. Because of the separation of divisions, the control of output quality is  sometimes difficult, especially in the homogenization of product quality as desired by the manufacturer.
To be able to thoroughly control the quality from input to output, it is required that production must apply a synchronous model from breeding, feed production, animal husbandry, processing and food supply… All must be connected and transparent.
At Ba Huan, we have accomplished that: from hatching stage – poultry feed – breeding farm – egg handling and processing – commercial eggs – refrigerated vehicle system to transport eggs to distributors such as stores, supermarkets, kitchens, etc. All those stages in order to produce finished products such as poultry eggs, processed food products… are carried out under a closed model at Ba Huan. This has made it possible for Ba Huan to easily inspect the product's quality, knowing at this stage what problems the product may have in order to intervene and handle before the product reaches the consumer.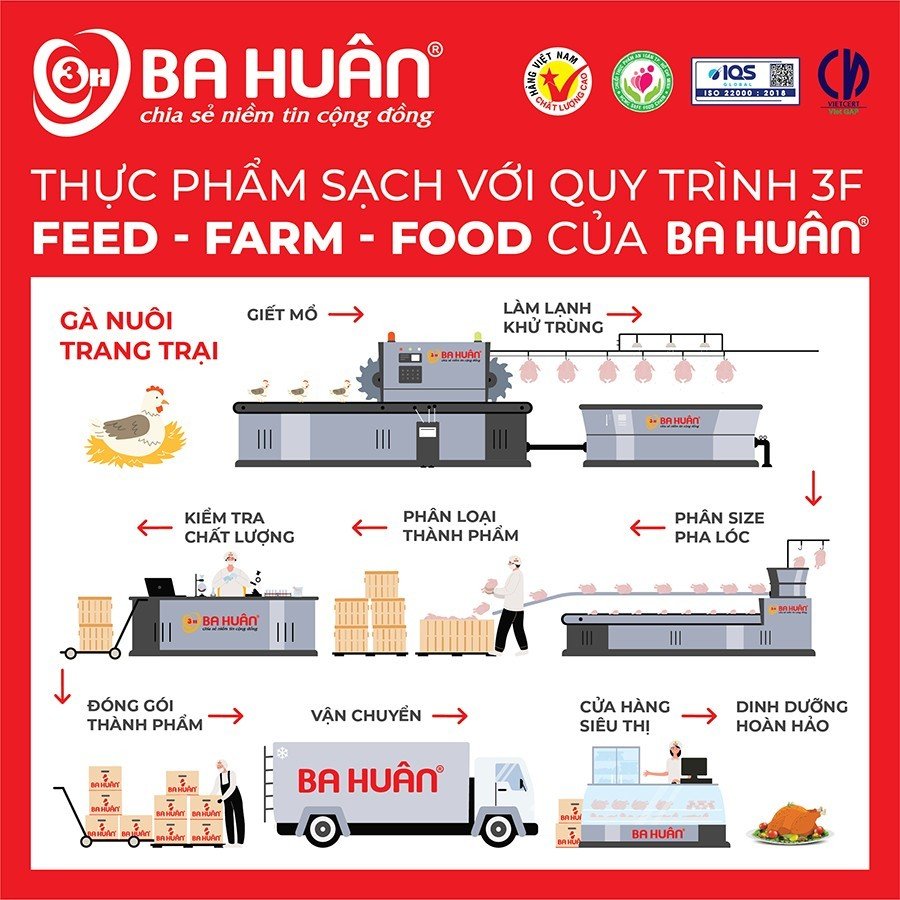 Applying this uniform model in production, it is imperative that Ba Huan also meet the specific standards of each different stage. Factory systems, processes, products, and environment will all have to meet the standards and certifications, typically Viet Gap, HALAL, ISO 22000-2018, VNCLC 2022, Food safety chain, Certification disease safety, environmental protection certificate…
The characteristic of eggs is that they have a thin crispy shell and have thousands of air holes, bacteria or impurities that can easily follow these holes to penetrate inside the egg. In order to create finished eggs that ensure food safety and hygiene while retaining all nutrients, Ba Huan company has invested in importing the entire egg processing line from Moba (Netherlands) – one of the leading suppliers of high-tech agricultural machinery in the world. Eggs from livestock farms will be transferred to the central processing plant within 24 hours. With Ba Huan's 8-stage egg processing line, eggs undergo careful processing before packaging. The closed process includes eggs going through a scanner, weighing and sorting eggs by weight, removing impurities that are invisible to the naked eye.
Specifically, eggs transported from the farm to the factory will be washed twice with clean water that meets testing standards. Then comes the drying system, which irradiates the surface of the eggshell with MOBA's UV light, which is capable of removing 99.9% of bacteria. In the next step, the eggs are passed through a light system to examine and remove damaged and cracked ones and then continue to cover with oil to cover the air holes on the surface of the egg shell, thereby limiting the re-introduction of bacterial creatures. The end of the process is the printing of labels and symbols to trace the origin of each egg, weighing and canning the finished product.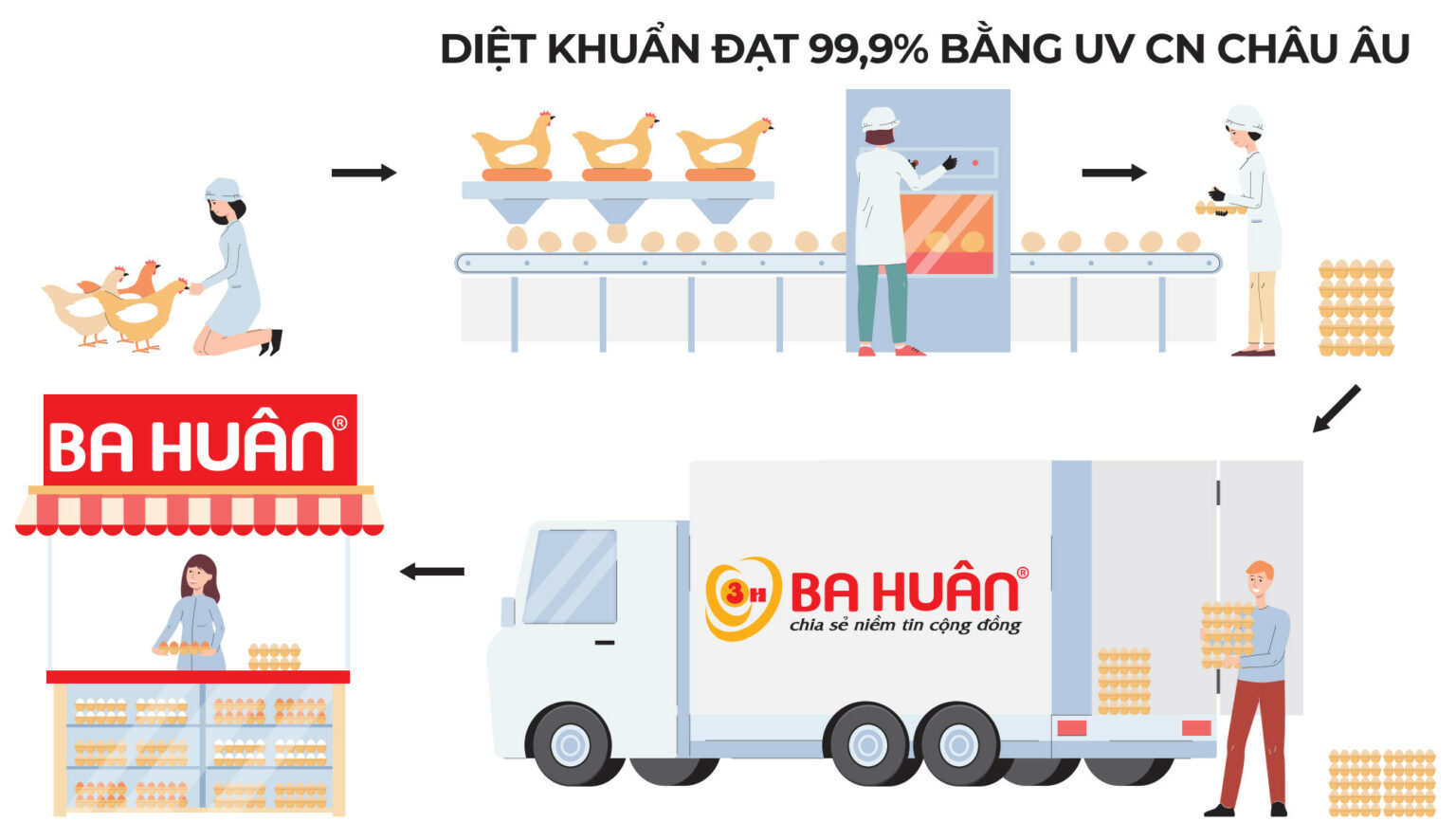 Currently, Ba Huan owns 2 egg processing factories in Tan Nhut – Binh Chanh with an area of more than 6,000 m2 with a MOBA capacity of 185,000 eggs/hour. Ba Huan Ha Noi hi-tech poultry egg handling and processing factory in Phuc Tho district, Hanoi, with a scale of more than 2,000 m2, total investment capital of over 110 billion VND, processing capacity of 65,000 eggs/hour.
With the value of the 3F closed chain production system, Ba Huan has become a strong company in the field of poultry and chicken egg production, continuing the mission of "Sharing community trust" by bringing best products for domestic consumers as well as for export. Over the years, Ba Huan has always been a reputable unit providing safe and hygienic food with stable prices to many Vietnamese families.